Whitepaper - Roadmap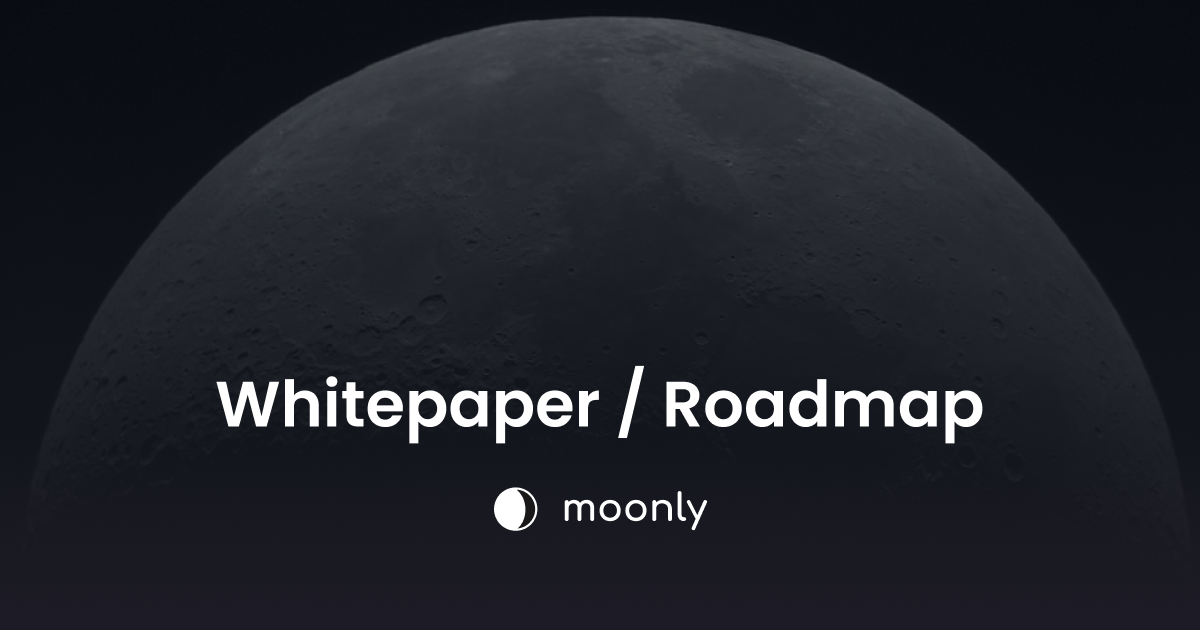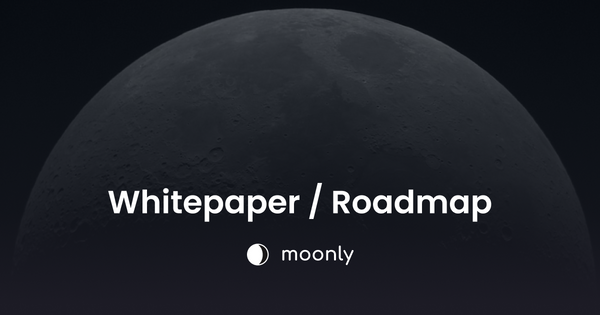 What is Moonly?
Moonly is a service that provides advanced tools to help you make informed decisions about your NFT investments.
Built by Stefan Smiljkovic (Founder of Automatio), Moonly was created to help make it easier to understand what projects to get involved with in the Wild West that is the Solana NFT space. If you search "NFT rug" it's clear why a service that can help minimize risk is critical. Beyond the outright scams, many projects fail in this space. Knowing where and when to get involved is about as clear as mud.
There are other great projects out there that are working towards delivering value by clarifying this decision making - Moonly hopes to collaborate with these fine communities - but few (if any) have the extensive background that Stefan and his team do in aggregating and making accessible the mountains of data needed to truly make the best possible decisions.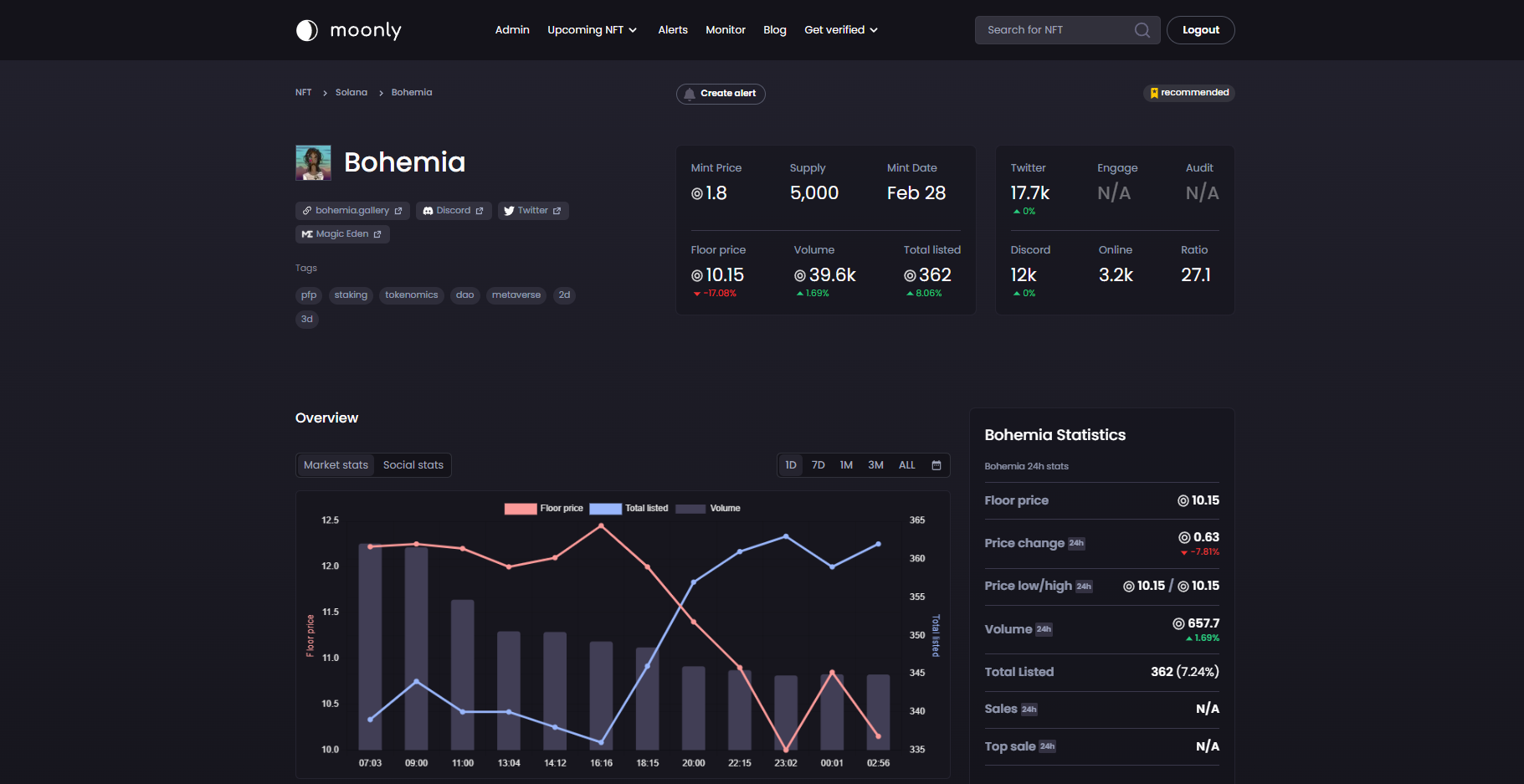 Why should I care Moonly?
Uncovering blue-chip projects without tools like Moonly requires you to constantly stay on top of multiple Discords (and all the channels within them), social media sites, and marketplaces - just to name a few. We could simply say, "Moonly does this and more for you," but what does that mean?
Moonly will:
Perform social media audits to help judge if the hype is real or it's just a bunch of bots
Monitor marketplaces to track floor price, volume, number of listed, etc.
Provide alerts if an NFT you're tracking goes above or below a price you set
Buy or sell for you automatically based on criteria you set
Analyze the blockchain for smart-money and whale watching behavior
Send you reminders about upcoming mint days you're interested in
Be accessed via a Chrome extension and mobile app
Check the roadmap section below for details on our progress
How does Moonly work?
Moonly functionality relies on two things: project data and human feedback.
Our team's expertise is in web automation (check out our successful project, Automatio), so gathering project data from various sources is no problem for us. First, we built bots to collect - or "scrape" - all the project-specific information we can find. Then we clean, organize and visualize that data.
Robots are excellent, but they don't always paint the full picture. As we said before, it's very hard to stay on top of all the new projects that pop up. We make it possible for project leaders to submit their brand new NFT projects for analysis so that our team members can curate them. We also need the "human touch" from our community's input so that we can continuously improve our tools and help you make the best investment decisions.
It's this combination of features and functionality that ensures a great user experience (UX).
Watch the video below to see it in action.
Wen Moonly?
Now Moonly. Unlike other projects that kick-off hoping to raise money so that they can maybe create something cool in the future, Moonly has tools that are built now. We will deliver instant utility after launch while we build and scale our suite of premium tools.
Here you can see a piece of our NFT collection which will be released in May.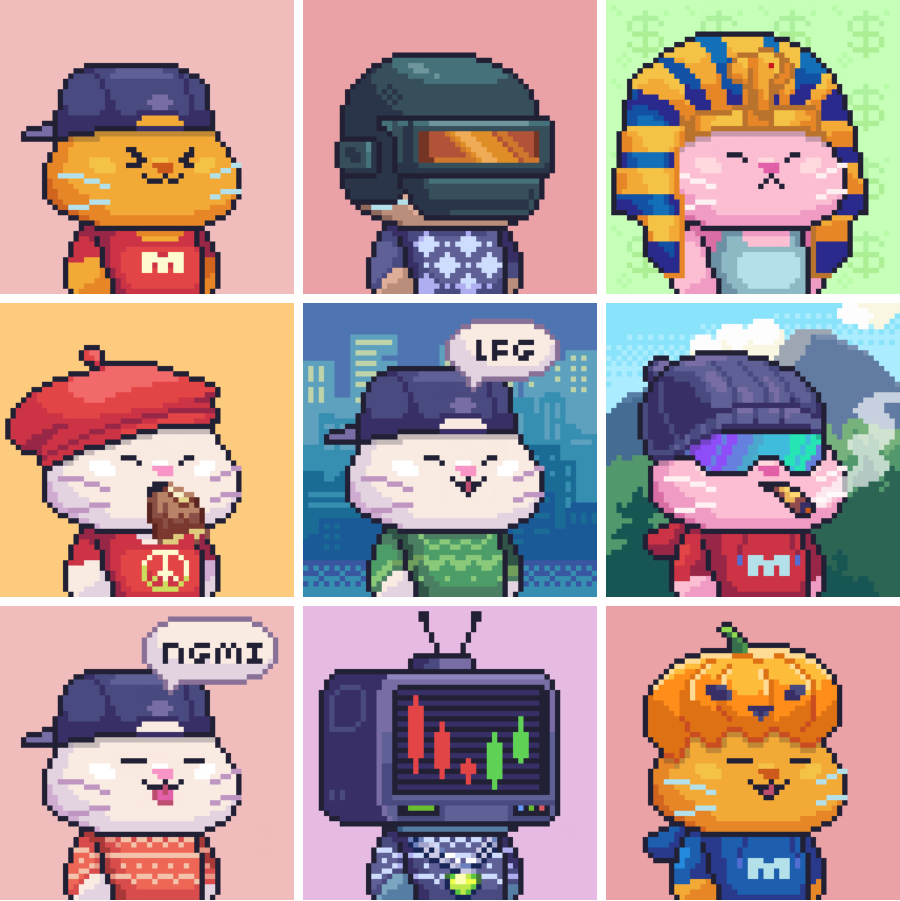 Principles
Our goal is simple: solve the problem and provide value.
Ideas are important, but they are nothing without execution. It's easy to overpromise and use neat buzzwords and hip acronyms, but a very small percentage of projects set up a realistic roadmap - much less deliver it.
That's why we're going to underpromise and overdeliver.
This is not a regular pfp project. Sure, we have super cute cats, but we aren't going to start blabbing about the metaverse, gamification, or any of that before we have a solid prototype.
It's not that we aren't going to dive into areas like royalties, staking, and passive income - we love experimenting - it's just that our goal is solid tools first.
We believe that founders should stand proudly in front of their projects and show the people that they really care about what they are building. That's one of the reasons our founder Stefan doxxed himself. With strong leadership and a community that cares, we know that we can build great things.
We believe that every company, project, or product should start with these same principles.
Roadmap
We vow to not write useless milestones like "created Discord channel" or similar ones. We have a proper plan with real goals in place, but we will be upfront in saying that we don't want to give away a ton of details.
Why so mysterious? Because this space is super competitive. Revealing ideas, details, and findings before features are built can kill a project. We have to adapt to changes that we see in other projects as well! An example of this is how a few months back many projects offered minting bots so users could have a better chance of successfully minting, but now those projects are mostly dead due to whitelist (WL) meta - being automatically approved for a mint.
We don't want to overpromise, so here is an outline of what we've built so far and the direction we're going.
We built
Moonly v1 prototype - upcoming NFT aggregator for Solana
Moonly v2 that brings new features below 👇
Social stats checker - check daily growth of Discord and Twitter, up/down trends for any NFT project in our database
Monitoring market data like FP, listed number, volume, 24h, 7days trends, and more
Charts and visualizations
Auto-update for market data - get a sound notification anytime there is a change in market data for an NFT project you're watching. No more manual page refreshing!
Alerts - get alert notifications when certain conditions are met (ex. "alert me when DeGods floor price goes above 100 SOL")
NFT pixel art - we partnered with a great designer to create beautiful art for Moonly
Moonly explainer video for promotion and collaboration
There's more, but that should give you a taste :). Let's proceed with our plan.
Plan to build
Mint manager - a better place to manage projects and whitelists. ( ex. a mint reminder will notify you multiple times before an important mint happens)
Portfolio management - track, manage and get automated alerts notifications when there are big movements in collections you hold
Mobile app - Moonly's web app is already mobile-friendly, but converting to a mobile app gives a better user experience and it's just a few taps away
More blockchains - since we have our framework ready, we'll add other major blockchains that have a solid NFT economy (ex. Ethereum, Cardano, Near, Terra)
Discord bots and tools that will be used by NFT projects - since most of the actions are happening on Discord, it's important to have the right tools to help founders run communities better
Browser add-on/extension for Chrome, Firefox, Brave - this add-on will bring you Moonly analytical data and tools while you're visiting marketplaces, Twitter, and other sites, so you can always have data on the go
Wallet tracker - see where the "smart money" or "whales" go so you can discover projects worth investing in
Automations aka bots 🤖 - we're talking about the good ones that do no harm, not minting bots
NFT sniper tool - which will use the power of automation to catch the good opportunities automatically
Our own RPC - for on-chain analysis without the limitation of third-party (think of SSC or Node Monkey)
NFT burner - similar to NFTabs, you burn/merge 2 or more Moonly NFTs into 1 to get access to premium features and benefits
And many more things that will come from the need and natural evolution of the NFT space
Growth
Growth is one of the most important aspects of any project. You can build the best product out there, but if no one knows about it then it's pretty useless.
Nowadays, NFT projects are growing by themselves - there's a lot of demand as people search for the next "blue chip" project. With the whitelist meta, projects create a FOMO effect (fear of missing out) that spreads like wildfire and creates virality.
When it comes to interest in projects, we noticed an interesting pattern using Moonly Social Stats to check the project Discord charts. The total count of Discord members went down for most projects after mint. Below you'll see data from Bohemia, Astrals, Magnum Ai, and Debonair Degen Hawks.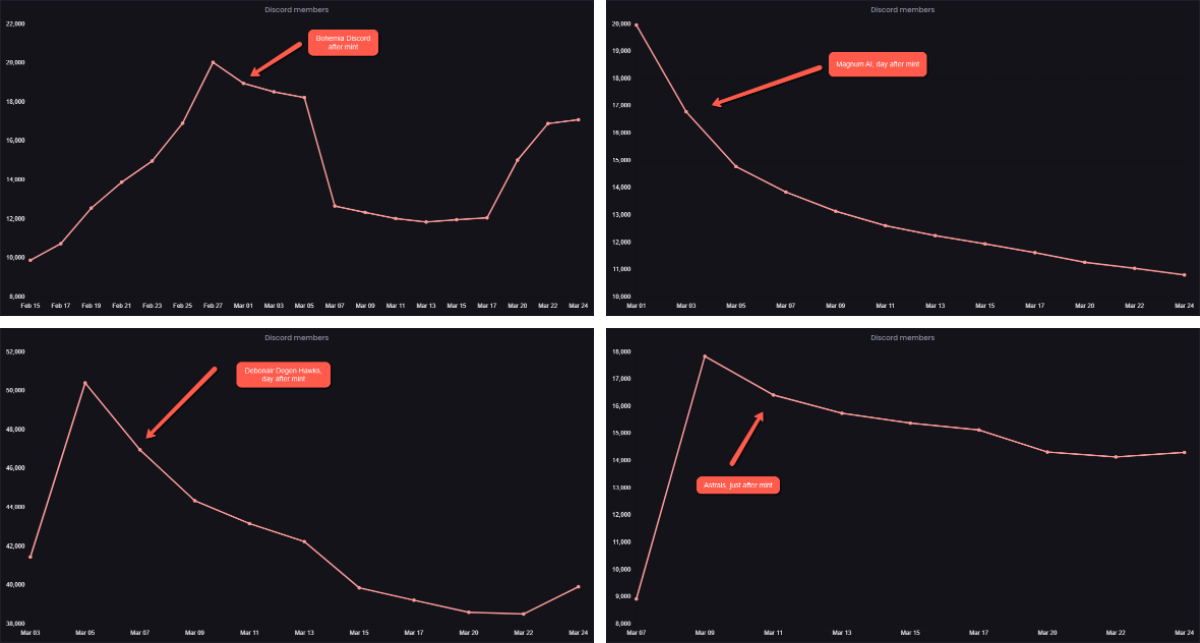 It doesn't mean those projects are bad, it's just the natural behavior of the masses.
It's fair to say that quite a large percentage of members were "flippers" - there for short-term gains - so they left and moved on to the next project.
Once the initial pre-mint hype has passed, it's critical for NFT projects to bring fresh members into the community. To do that they need to be creative and provide value so the minters have a reason to hold. This is where most projects fail.
Moonly is different
By its nature, Moonly provides value to both end-users: investors, and project teams. Since all NFT projects can find value in Moonly's tools, collaboration with these project teams is very natural. Moonly has the advantage of gaining exposure from established projects and all the new ones that will come.
But that's not all. Moonly has its own source of fresh traffic every day. 20,000 to 30,000 people visit the Moonly website each month either searching for an upcoming project to mint or to track stats of existing NFT projects.

This is massive for Moonly because new users will constantly discover our project, bringing in fresh buyers every day. On top of that, when we add other blockchains to Moonly, it will bring even more traffic and increase the demand for our NFT collection.
This is why Moonly will become the next "blue-chip" NFT project, and this is why we're going to win over other projects in the same space.