How to Buy and Sell Crypto via P2P on Binance
As many crypto exchanges, including Binance, suspend direct USD withdrawals and deposits, here's how to use the Binance P2P service.
Many crypto exchanges, including Binance, are suspending direct USD withdrawals and deposits. This may affect you if you get paid via crypto. But restrictions don't discourage crypto-bees. And there's always a way out of every mess. Whether this affects you or you're only planning to explore the P2P option because you get paid in crypto, we'll show you how to buy and sell crypto via P2P on Binance.
While Binance warns customers to follow strict security rules when engaging on its P2P (peer-to-peer) platform, thousands of people buy and sell crypto via this means without issues.
What Is Peer-to-Peer Trading?
A peer-to-peer (P2P) service means buying from or selling cryptocurrency to another person on a crypto exchange marketplace. Thus, P2P is a direct person-to-person exchange that doesn't involve an intermediary.
Someone who needs crypto (USDT, Eth, Sol, ADA, or BTC, among others) sends the fiat equivalent of the crypto value to its seller in exchange for crypto. While fiat-to-crypto and crypto-to-fiat transactions are more common, a P2P transaction may also involve crypto-to-crypto exchange.
A typical P2P platform includes advertising buyers and sellers, also called vendors or merchants. These list their exchange rates on a trading platform like Binance for potential clients to patronize them.
Clients are usually one-off buyers or sellers who need to exchange fiat for crypto or otherwise. For instance, you're a client patronizing a vendor when you sell your crypto (e.g., USDT or BTC) in exchange for your local currency.
Is P2P Secure? What You Should Know Before Trading on the P2P Platform
In P2P, you're likely transacting with someone you'll probably never meet in your lifetime. So we're not disputing that scammers lurk around leveraging P2P for daily shady business.
Although Binance and many similar crypto exchanges have put strict security measures like KYC and escrow holding in place, using the P2P option requires strict adherence to the following rules.
Do your research before trading with any merchant on the P2P platform.
Always buy and sell via the in-app P2P trading platform. Don't do business with anyone outside of the P2P marketplace.
Don't release your crypto from escrow without confirming the fiat recipient in your bank account. Watch out for bounced checks and fake alerts. Even if a merchant claims they've sent the crypto equivalent of your money, ensure you receive a credit alert from your bank. Then confirm by checking your banking app to see if you have the agreed amount in your bank account.
Ensure you take a screenshot of your transactions.
Respond to the buyer or seller on time to avoid order cancelation. Binance might ban you from transacting on P2P for that day once you cancel an order up to 5 times a day.
Contact Binance Support with proof of your transactions if you feel someone has scammed you.
How to Buy or Sell Crypto via P2P on Binance
Anyone can buy and sell crypto via P2P on Binance, provided they have a verified Binance account. You might need to undergo another verification process to become a merchant, though.
First Step: Selling Crypto Instead? Transfer Crypto to Your Binance Funding Wallet
So the first step for selling crypto via P2P on Binance is to transfer the amount of crypto you like to sell to your Funding wallet---if your money is still in your Spot wallet. That's because you can only sell the crypto in your funding account. For instance, you can only trade $1000 if you have $1000 in your Funding wallet.
Transferring funds from Spot to Funding wallet is easy with the following instructions: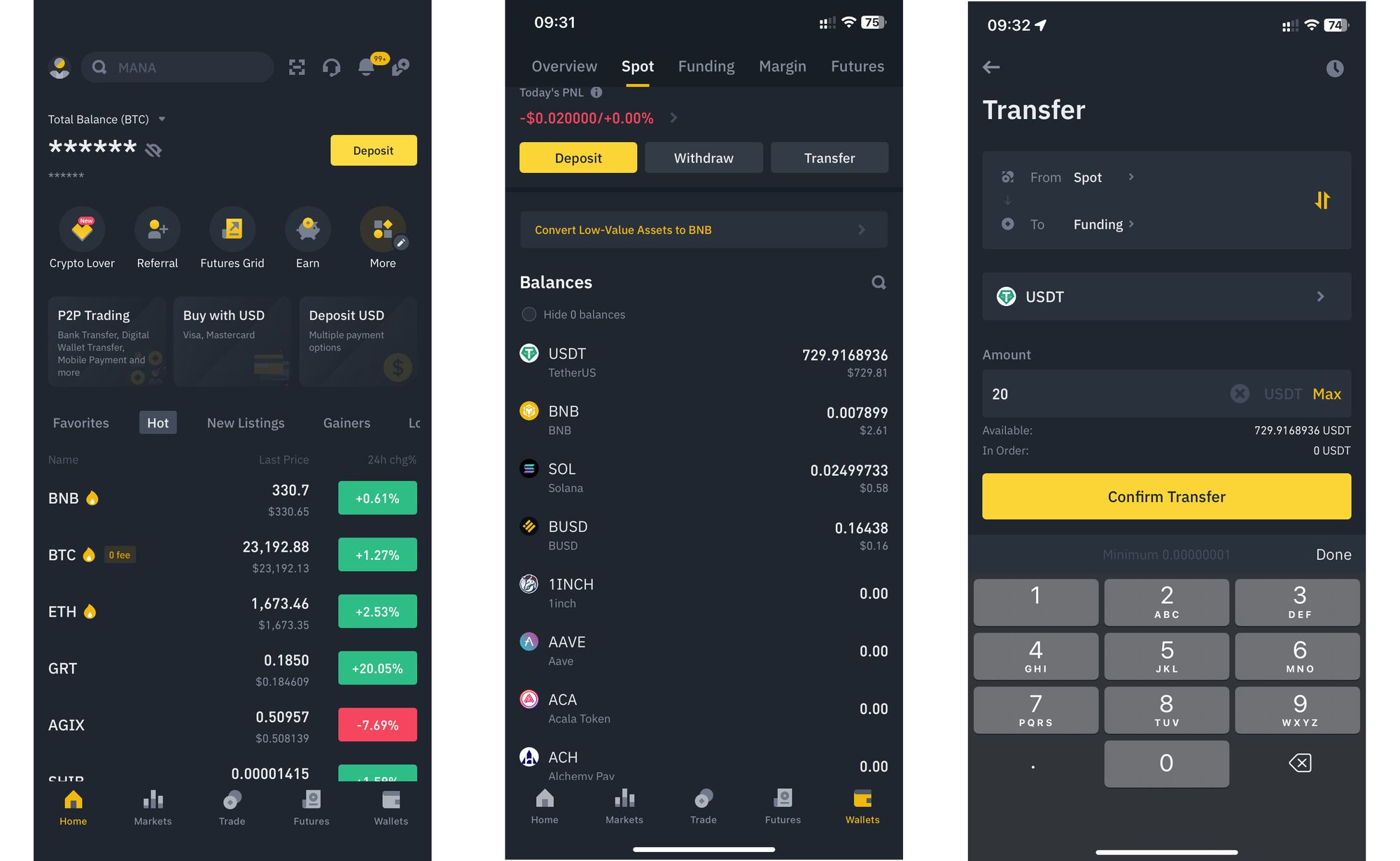 Once logged in to the Binance mobile app, go to Wallets at the bottom right.
Tap Spot towards the top left.
Select Transfer.
Tap the BTC dropdown to search for your crypto.
Ensure you select the transfer route appropriately; select Spot in the From field. Then set the To field to Funding.
Enter the crypto amount you want to transfer.
Click Confirm Transfer to complete the process.
Once done, you can now sell the transferred amount (or lesser) on the Binance P2P option.
Hints for Finding Reputable P2P Merchants on Binance
Reputation is essential when selecting a merchant to trade with on the exchange. Those with a high rate of completed transactions to trade numbers are the best to patronize.
For instance, if a verified merchant has completed 3k transactions with a 99% completion rate, you might want to give them a shot.
You'll see each merchant's completion rate and total transactions directly under their name.
Now, let's see how to use the P2P service on Binance.
How to Use P2P on Binance (Mobile Option)
To trade via P2P on the mobile app:
💡
General hint
Some merchants have specific trading rules. You might need to tap the message icon to establish a conversation with the buyer to confirm the transfer. You may also need to provide a screenshot of your transaction before the seller releases your crypto. So stay vigilant and reach out to them via the chat icon on their page.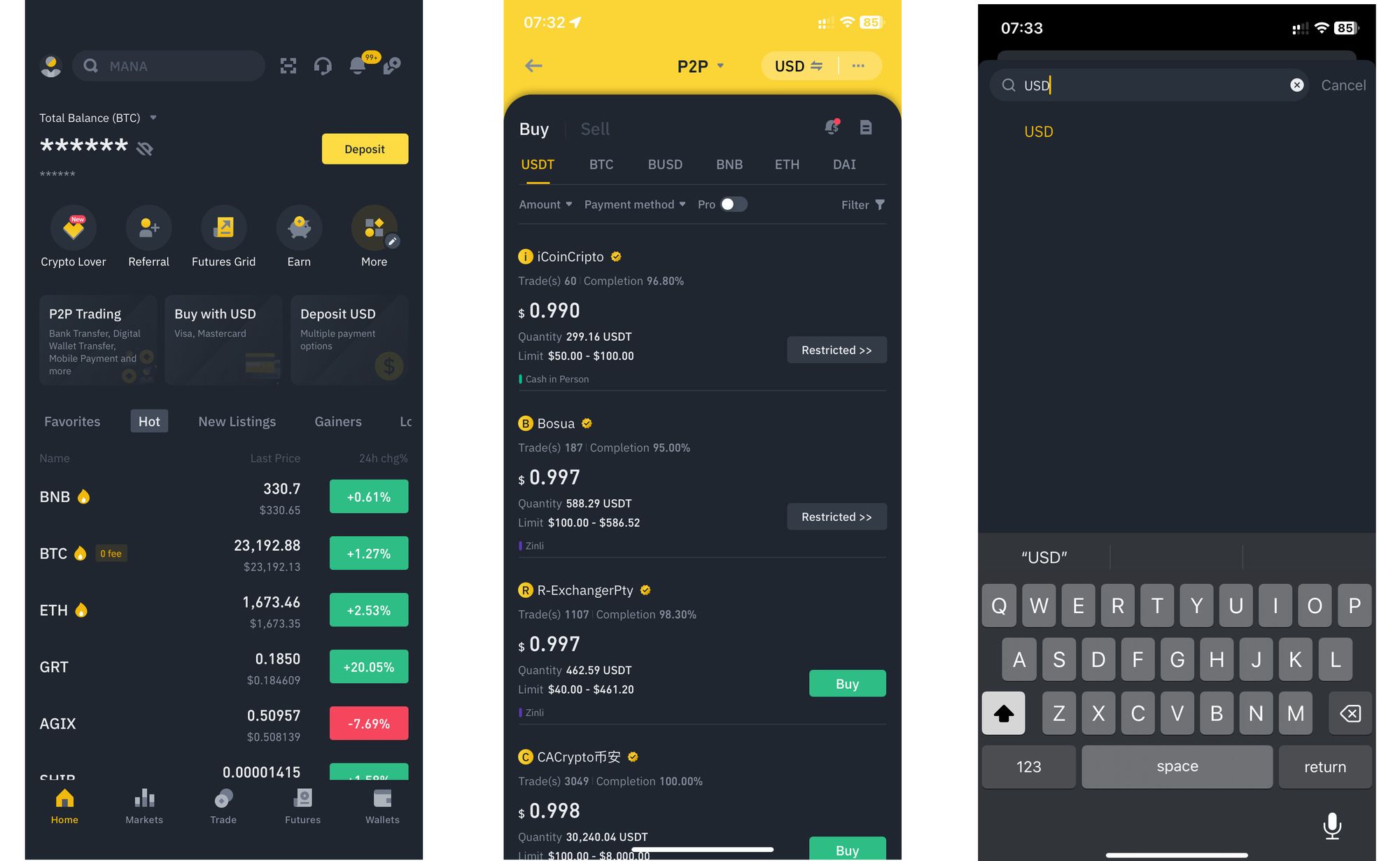 Log into your Binance account and tap the P2P Trading card at the top left.
Select Buy to buy crypto using fiat or Sell to sell crypto to a merchant.
Tap the fiat abbreviation (e.g., USD) at the top right to find the fiat you want to exchange with crypto.
Type your fiat abbreviation in the search bar to find it. For example, search for GBP if your fiat currency is GBP. Click the currency when you find it.
Tap the Filter at the top right. Then select a preferred payment method or use the search bar to search for a payment method.
Tip: To filter merchants by the limit of the minimum amount they can trade, enter your expected price into the Amount field. For instance, if you want to buy $100 worth of crypto, type 100 in the amount field.
Choose a merchant from the list and tap Sell or Buy. Type in the amount you want to buy or sell in the Enter Amount field. Tap Confirm to apply changes.
If you're selling crypto, Binance holds your funds in escrow. Only tap Payment Received after confirming that the money is in your bank account. Then follow the onscreen instructions to release the crypto.
If buying crypto instead, tap Make Payment to see the merchant's payment methods. Select a payment method that works best for you. Then copy the merchant's account details.
Once you've sent fiat to the merchant's account, ensure you tap the Transferred, notify seller button to notify the seller that you've sent the money. Wait for the merchant to release the crypto equivalent of your fiat.
Binance will notify you once the order completes.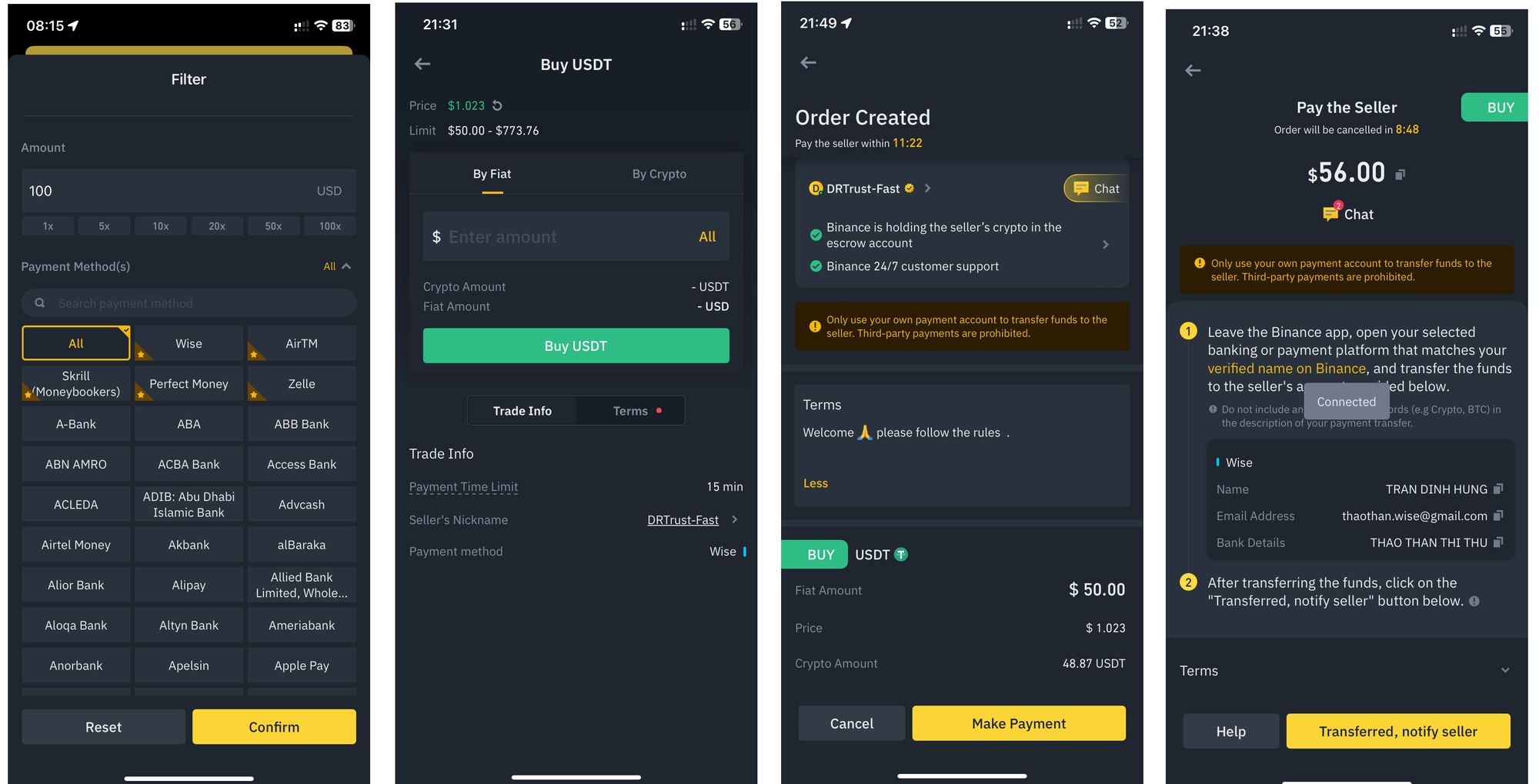 How to Use Binance P2P via the Web App on a Browser
To use P2P via the Binance web version: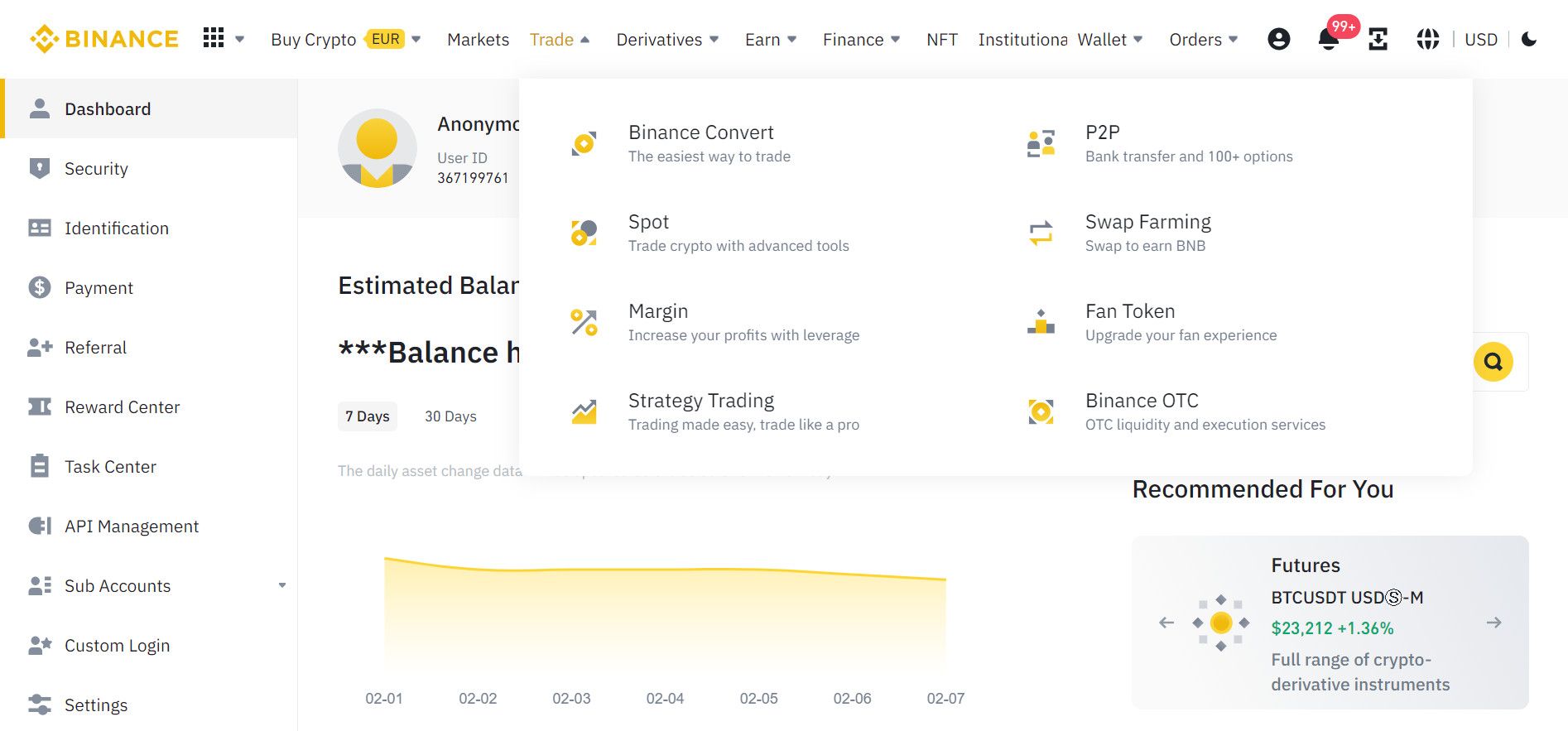 1. Go to the Binance website via a browser on your computer and log into your dashboard.
2. Hover your mouse over Trade on the navigation bar.
3. Select P2P.
4. Click Buy or Sell accordingly at the top left.
5. Select the crypto you want to trade via P2P from the horizontally listed coins.
6. To filter your choices: Type an amount into the Amount field to filter the price limits based on the specified value. Click the Fiat dropdown to select your fiat currency. Use the small search box to find the fiat you want to change. Select a Payment method from the Payment field.
7. Once done with the filtering, choose a merchant from the list by clicking the Sell or Buy button to the right of their name.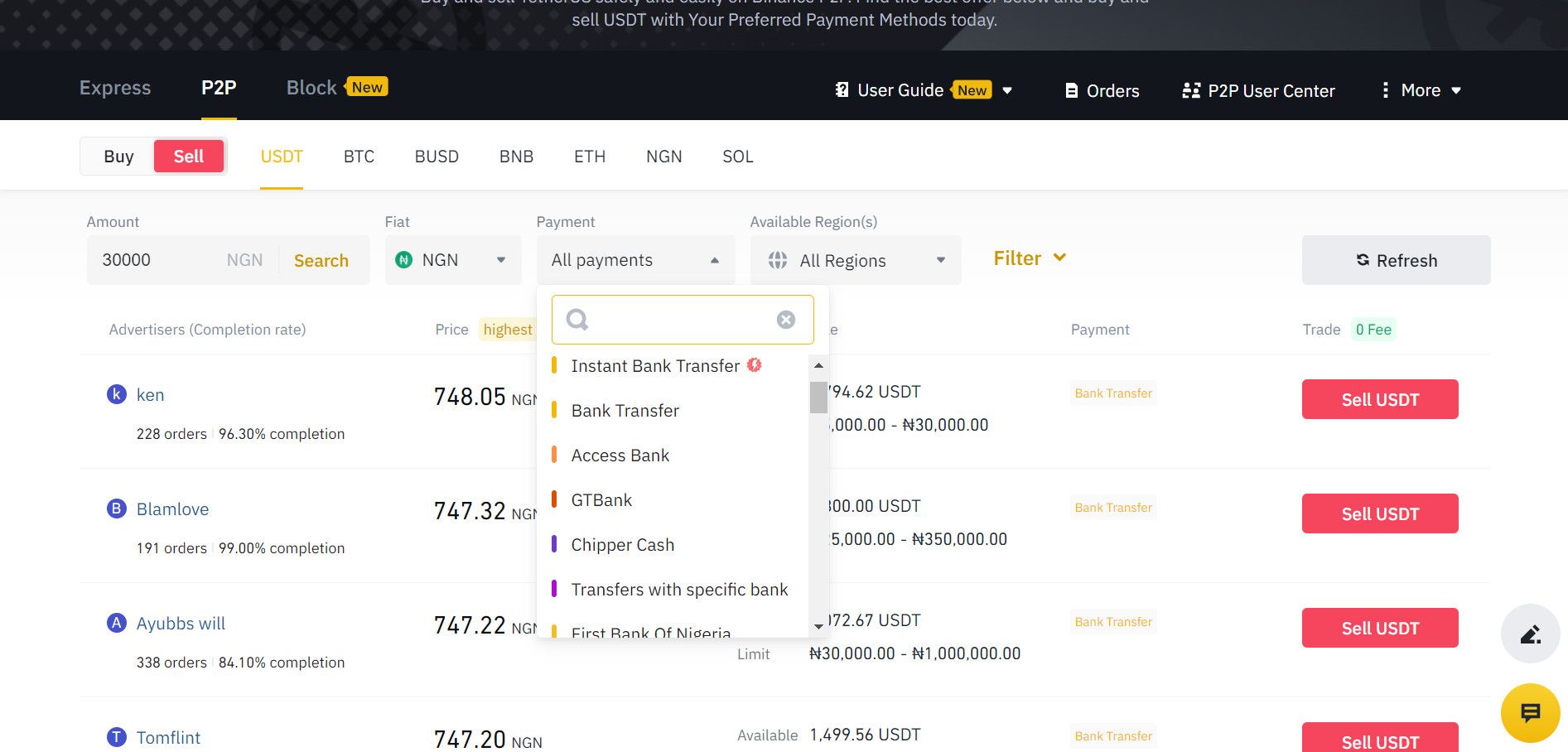 8. Type in the amount of crypto you wish to buy or sell in the I want to sell or I want to buy field. You'll see a crypto or fiat equivalent of your order in the To receive field.
9. Next, click Sell or Buy.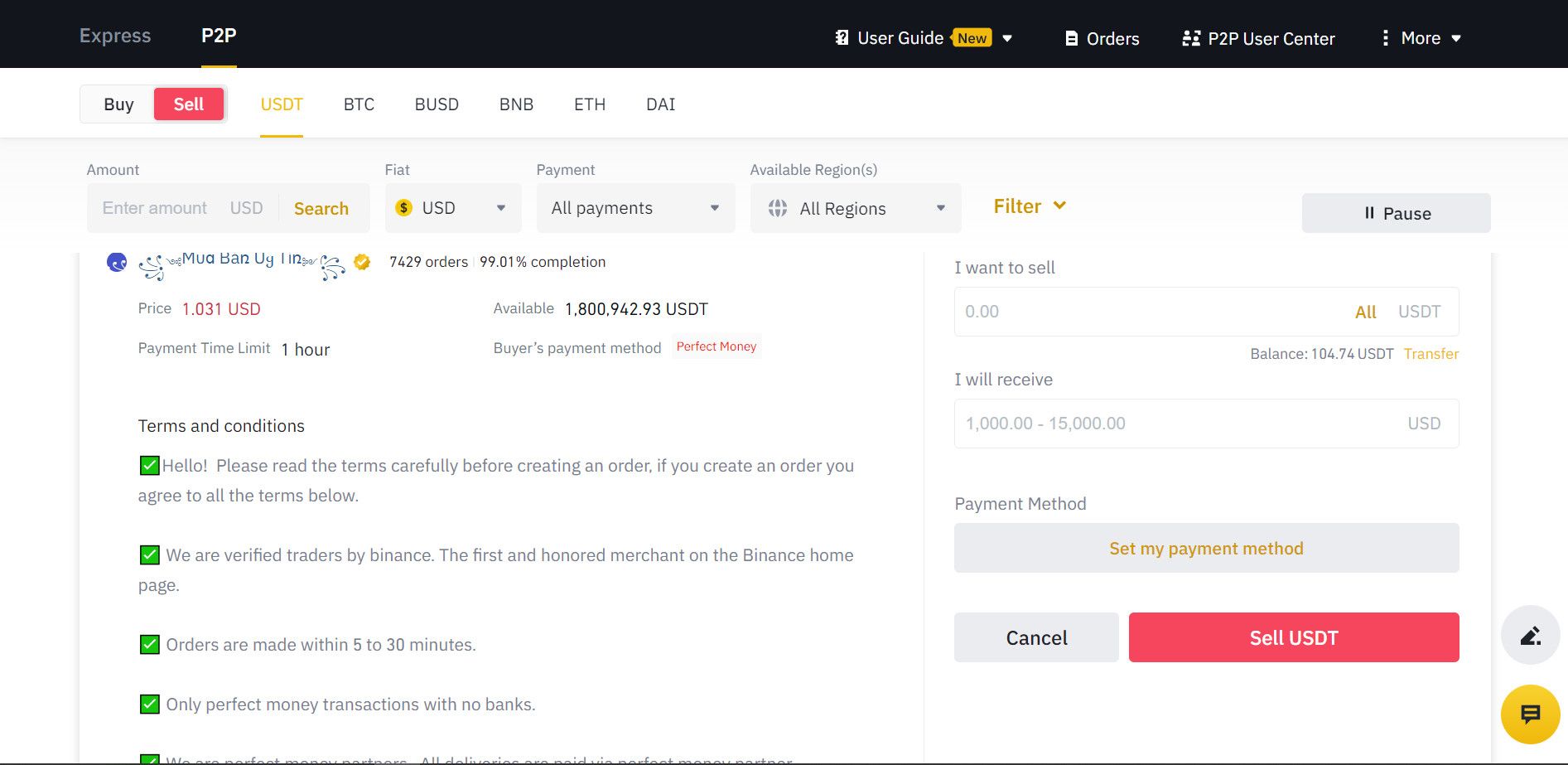 10. If buying crypto, click Transferred, notify seller after transferring the fiat. If selling instead, click Payment received only if you've checked your bank account and confirmed that they sent your fiat. Then follow the onscreen instructions to release the crypto.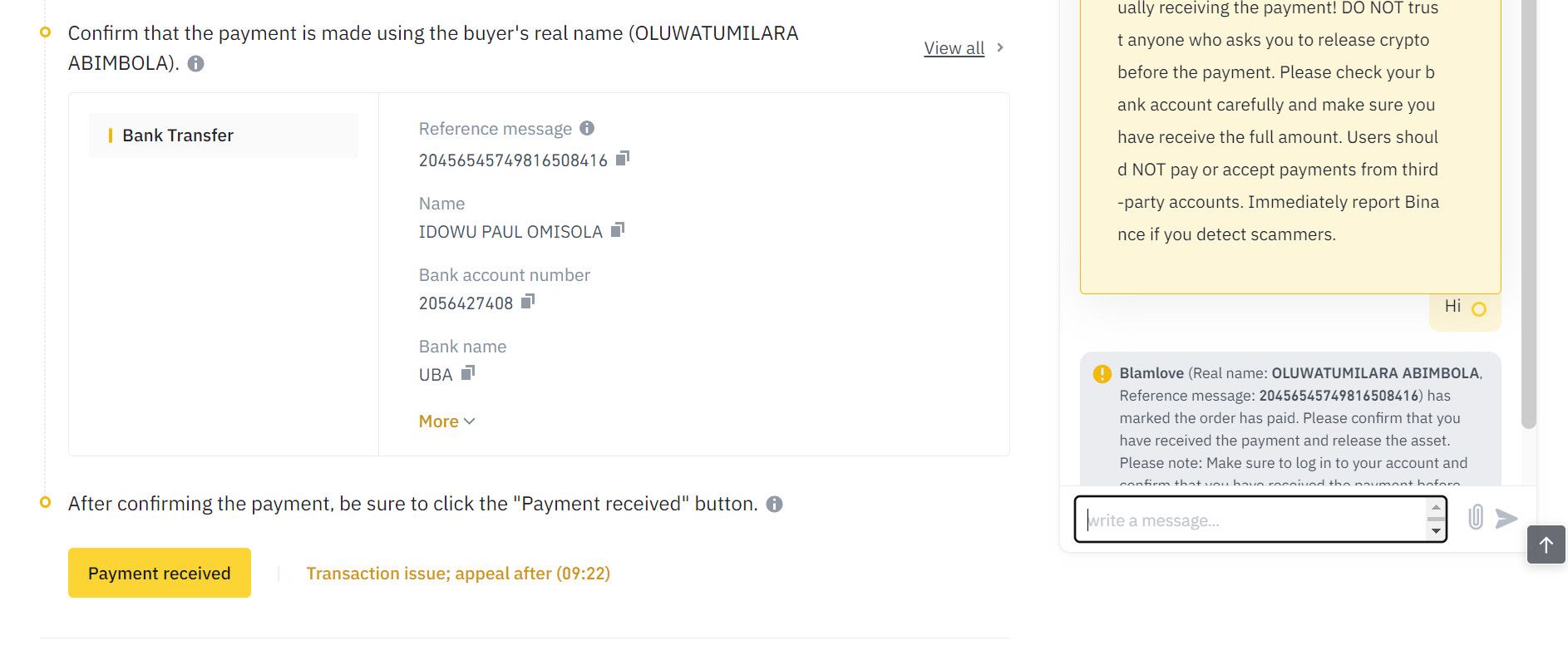 Make Money via the P2P Service
In addition to exchanging crypto-to-fiat and fiat-to-crypto quickly, P2P comes with profit benefits. Since crypto is volatile, you can buy it when the market is bearish and sell it when bullish. Keep in mind that waiting for crypto to get bearish or bullish before withdrawing or buying is like gambling. So this is only an opinion and not financial advice.
However, if you receive payments frequently via crypto, the P2P network is the fastest way to withdraw your crypto to your bank account in your local currency.