Ethereum Blue Chips: BAYC, Among Others, Record Steady Price Decline
Ethereum NFTs tank, as most celebrity-purchased BAYC tokens, among many others, show a steady downward trend over the months.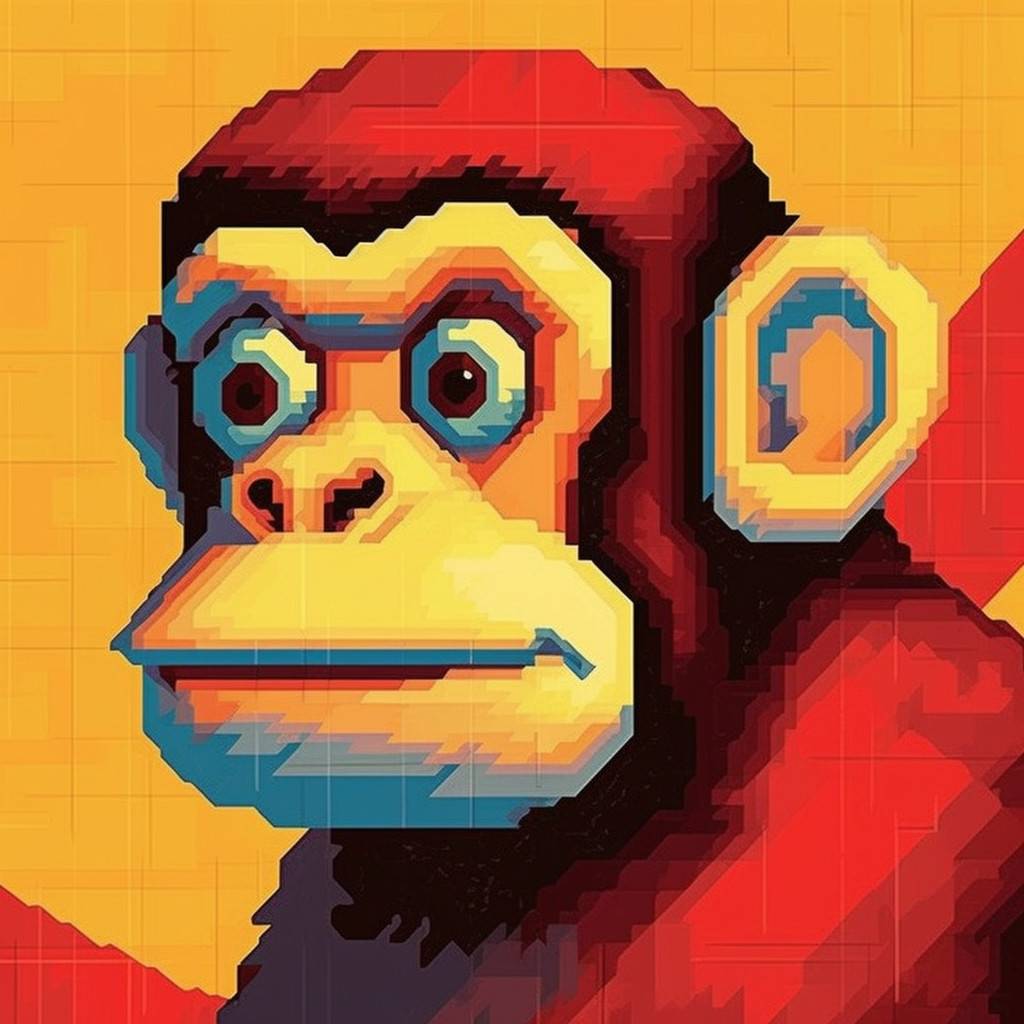 The floor price of Ethereum's top NFTs, including Bored Ape Yacht Club (BAYC), Azuki, and many others, have declined steadily over the past month. While they remain the network's blue chips, the worth of these NFTs today is far below what it was three years ago.
Let's use BAYC and Azuki as our case studies and see how they're doing right now.
Bored Ape Yacht Club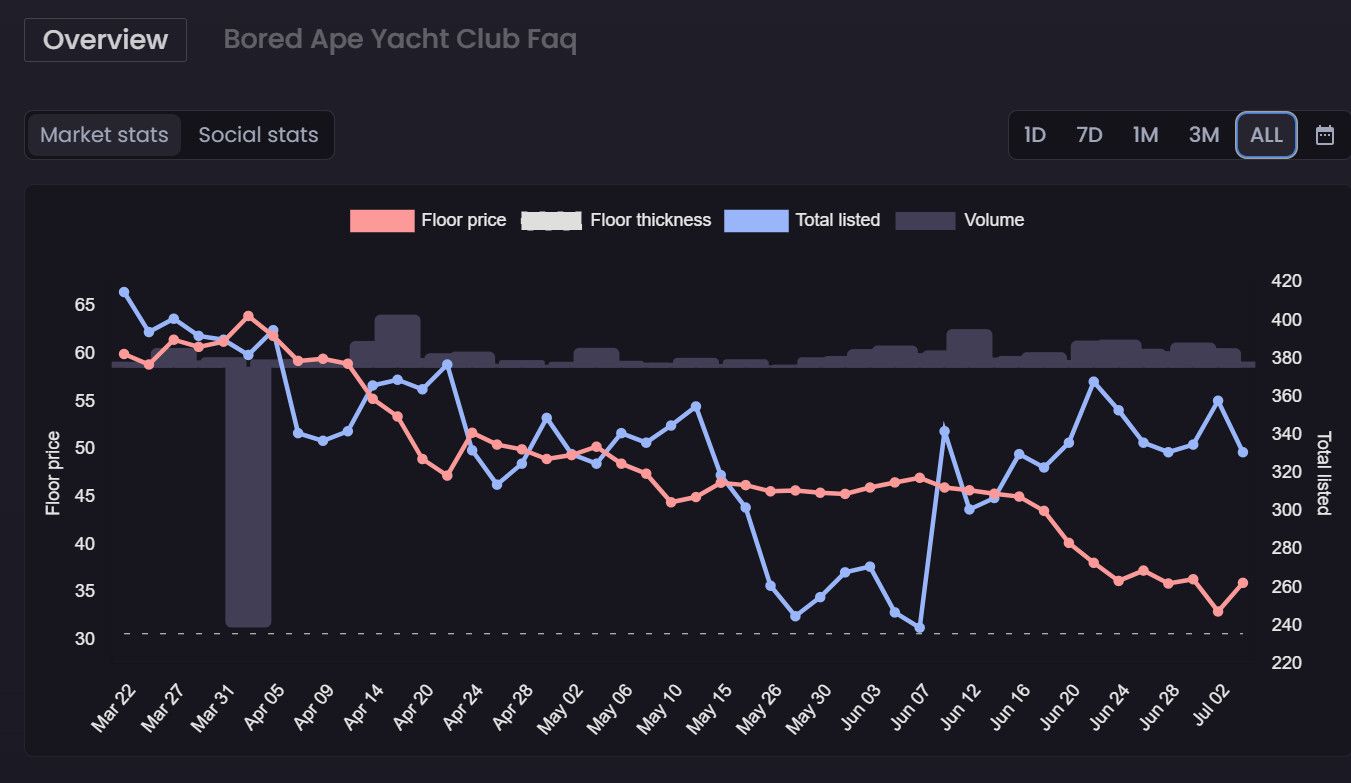 BAYC, our primary case study, which was the talk of the town in 2022 as it gained more traction among celebrities, including basketball players, footballers, and songwriters, has crashed significantly. Although BAYC has sold for up to 189.69 ETH in history and witnessed a natural fall, it still sold at a 60 Eth floor in 2023.
This NFT has crashed to a two-year low today, dropping steadily from 61 Eth to 27.4 ETH on July 2 and 33 ETH as of writing in a three-month trend. According to Moonly's NFT Monitor, as of writing, the price of BAYC has declined by almost 50% in three months and 34.35% within the past month. The past seven days' price trend accounts for about half of this decline (approximately 15.7%). That's huge!
Singer Justin Bieber bought BAYC #3001 for a whooping sum of 500 ETH, equivalent to $1.5 million at that time. The best offer on BAYC #3001 is 29.5521 ETH ($57,816.62) as of writing. Blue-skinned BAYC #7990, bought by NBA player Stephen Curry for 55 ETH ($180,000 at that time), is now worth 30.5 ETH ($59,671.12) as of writing.
BAYCs #6633 ($570,000 at the time) and #5269 ($481,000 at the time), purchased by the Brazillian football icon Neymar Jr. for 159.99 ETH and 189.69 ETH, respectively, now cost 29.575 ETH ($57,861.42) each.
Azuki NFT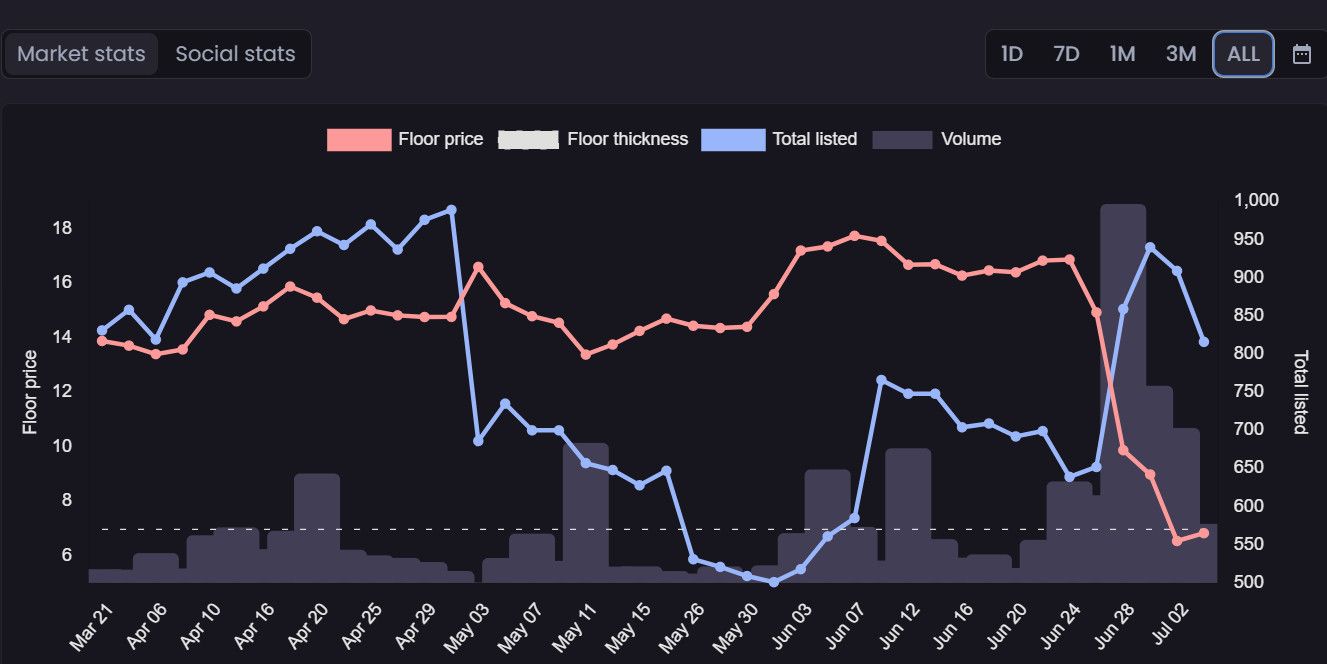 Azuki appears to have taken a harder hit, tanking by 60.89% within a month. As of June 5, 2023, Azuki's floor price was 17.35 ETH; it has glided to 6.83 Eth at the time of writing. Azuki sold out in 2022 and has maintained its success. What we're seeing as we write might be due to significantly reduced demand between June 28, 2023, and July 4, 2023.
As seen for BAYC, Azuki's rarest pieces have also declined in value. For instance, Azukin #9605, which last sold for 420.7 ETH, has the best offer of  25.6 ETH. Similarly, Azuki #7242, bought for 68.7 ETH, is worth 25.98 ETH at the time of writing. This is the trend for many other rare pieces.
NFT Prices Are Down: But That's Not Even the Problem
The NFT market is witnessing one of the harshest winters this year—even Mutant Ape Yacht Club (MAYC) has tanked by 43.76% within the past month and 24.05% within the past seven days. And CryptoPunks' data doesn't speak well too. A respective floor price drop of 16.29% and 8.35% within the past month and seven days isn't what anyone wants for their holdings.
But anything crypto is unpredictable, and we might soon see an upsurge. While the NFTs deal with the crash, the price crash feels like a disappointment for long-term holders. Although most diamond hands have reasons for holding, low-key, there's the profit motive. Besides, they're investments.
While some lucky buyers might've bought at lower prices and sold higher, most investors purchased their NFTs at high-end prices. It's glaring that the price differences are significantly huge. And loss is imminent for anyone who sells now. But the difference between the buy and the current price isn't even the major problem.
Ethereum's price when most of these blue chips launched about three years ago is about twice its price in 2023 when this crash is endemic. Imagine someone who bought a BAYC for 153 ETH at an ETH-USD rate of $4,444 in 2021. Such won't only sell at a lower price in ETH but at a poor exchange rate. That goes a long way to show that besides an NFT's price at a point in time, its worth still revolves heavily around that of its mainstream network coin.