Announcement #3 - Open Sea, Moonly stats, Utility, Traffic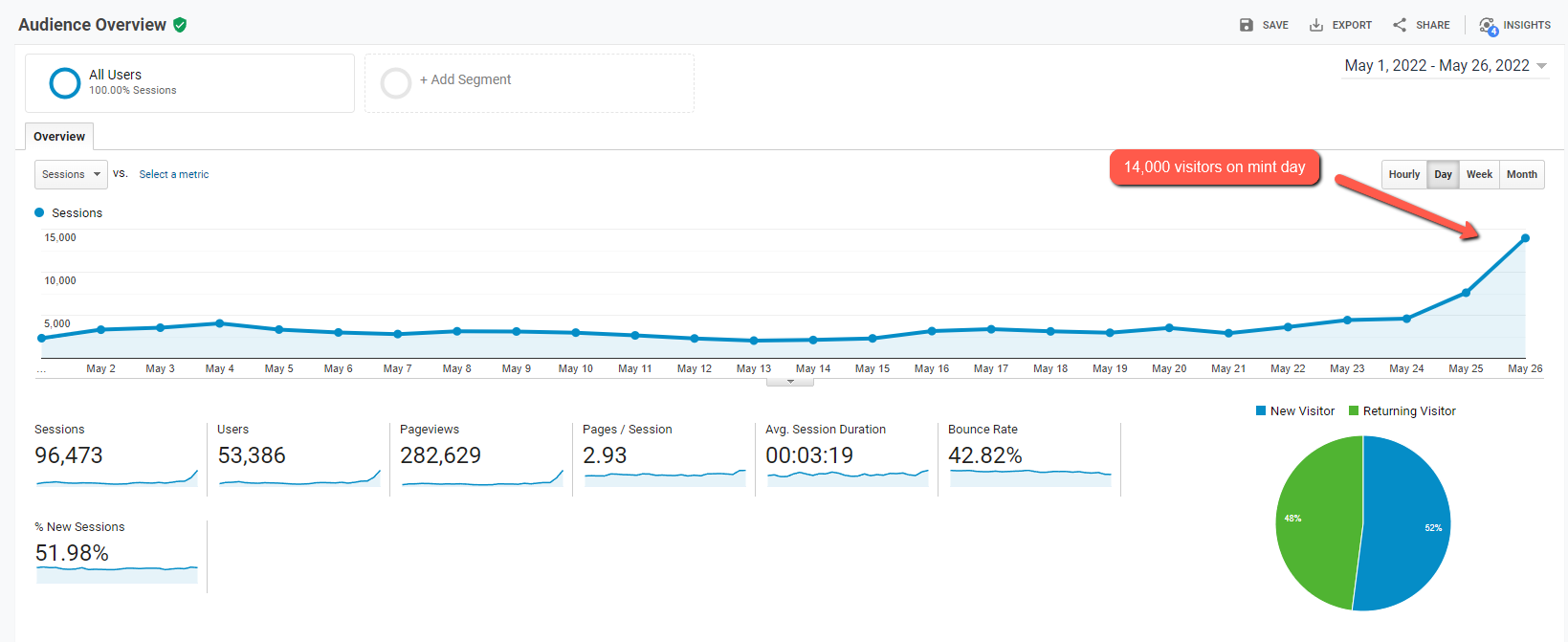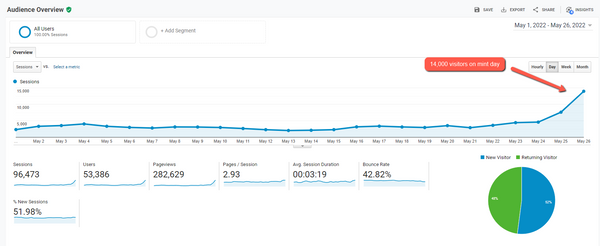 Good day good people 👋.
Open Sea
I am waiting for MagicEden devs to transfer us Update Authority, and then we will be able to verify collection on OpenSea and get that blue badge. It will probably take another few hours, but let's see.
Stats
Moonly stats looks healthy, and yes I am using Moonly itself for that because I don't need to refresh the page every few minutes, but Moonly is auto-updating itself. There are a few issues we are facing due to a huge traffic increase over the last couple of days. The total sales, top sale, and floor thick are off right now, but we will update those.
Utility
Regarding the utility, since some people are wen, wen.
Now Moonly. Unlike other projects that kick-off hoping to raise money so that they can maybe create something cool in the future, Moonly has tools that are built now. We will deliver instant utility after launch while we build and scale our suite of premium tools.
"We will deliver instant utility after launch" is what is Moonly now. Finding upcoming projects, tracking and market analytics of already minted, social media and alpha check, monitoring page, creating alerts, etc. This is our base, we were building for ~6 months, and now we are moving on to the next stage.
" while we build and scale our suite of premium tools" is something we working on right now and that will be delivered in near future. Developing is a process that takes time, but we are capable to build things rapidly.
Allow us some time to settle down after the pre-mint chaos, and to organize, while our dev team is still building in the background. Good things take some time, and it's not built overnight.
Traffic
Moonly was hitting new records day by day regarding visitors. Even with the market crash which is a noticeable drop if you look at the middle of May, it shows that it recovered fast after. As you can see on the attached screenshot, Moonly had ~14,000 visits yesterday on the mint day. That is a lot, to be honest! Of course, that was because of pre-mint hype, but still shows the interest and reach Moonly has.
By the end of the month, Moonly will have over 100k sessions/visitors for the month of May. Why I mention this, is because no matter how good a product/utility you have, if none knows about it is useless.
Moonly has all ingredients for success. Already built solid base/product, growth, team, and great community support, that is for sure a great and necessary combo for success.
Moonlanders, thanks for the trust and support you have shown, the best is yet to come, and we are just warming up.
As always, peace to @everyone ☮️