Announcement #15 - Moonly FP talk, partnerships solution, social and growth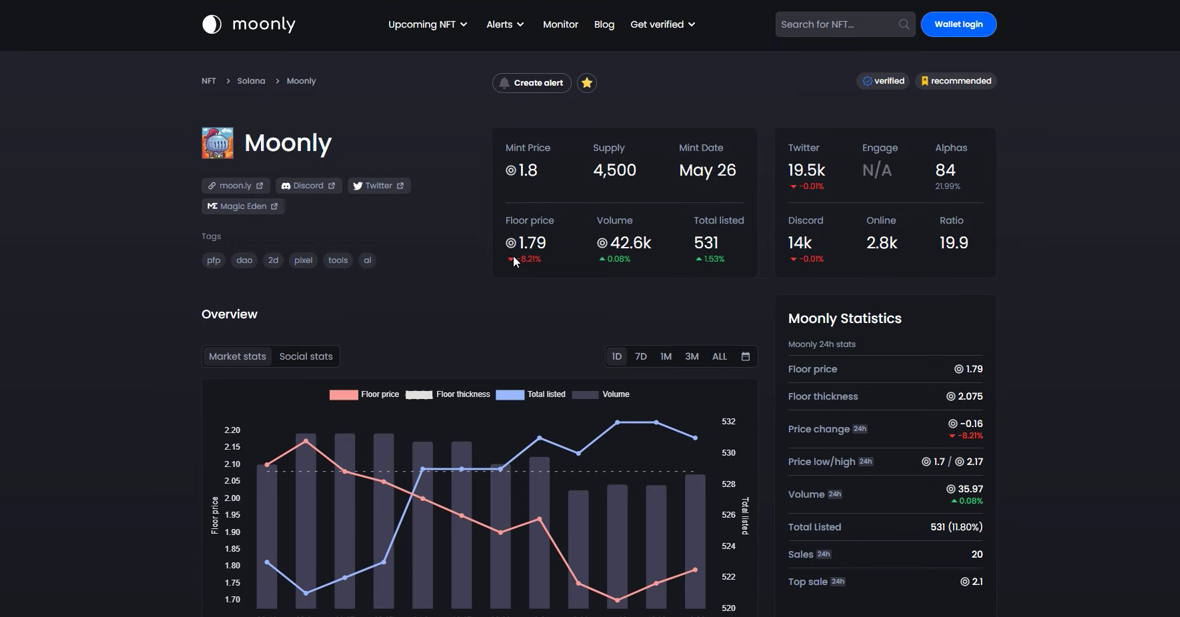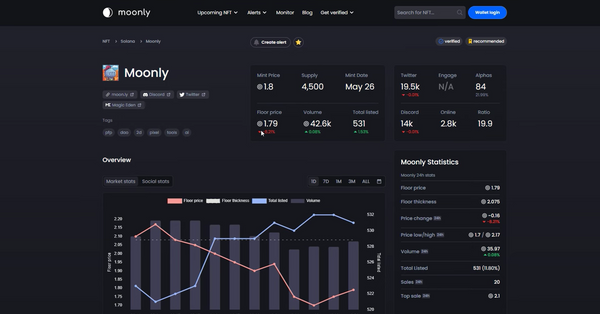 Damn, Today our FP met our mint cost. Not the best news definitely, but not the worst either. Well, it's hard to explain in a message, so that is why I just recorded a video https://www.youtube.com/watch?v=3GQh4h5GRCY&feature=youtu.be .
In short, a few things to happen:
- Discord authorization will open doors to many new functionalities that will come in the near future. But for now, it will play an important role in having the ability to sync your profile with any device. Desktop, mobile, etc.
- Auto alert feature that will automatically communicate with you on the important changes for every collection you hold or watch. That way, you will be able to stay up to date with many collections without manually checking or creating alerts for each of them.
- Staking/Locking down NFT for partnership, collaboration projects, and any project/founder who wants to use either Moonly functionalities and my time (seeking advice, advisory, partnership, showing up in their AMA/Spaces).

We get a lot of offers from other projects, both minted and upcoming, for all kinds of partnerships. Once we build our custom staking solution, we could utilize our time and Moonly and require X amount of NFTS to be purchased and to be locked for X period (e.g 3-6 months) to get our service, advice, time or partnership.
Locking is kinda stacking, but without SPL token reward for now. Again this is just for partners, and locking means they will not be able to sell our NFT for 3-6 months. That will increase the value of Moonly, gain additional exposure, and create more partnerships in the future.
Locking functionality for the partners will also be the first step for our future staking for our holders, and it will open doors to many other things.
Social media, growth AKA marketing. As I mentioned in the video, know guys, I am aware that I didn't do good about this. My focus was mostly on the development and core Moonly team. But definitely in the near future, after we release this above mention update, we gonna focus on more partners, AMA, Twitter, and other channels that will reach new people.
Believe in Moonly! Even if this shit goes to 0 (which is not gonna happen, of course), we are here to build because we enjoy this process and will deliver what we planned and beyond that. We were always makers/builders, even before the mint or even before the Moonly project itself. This space excites us, which is one more reason to be dedicated to it.
Please watch the whole video for more detailed feedback.
What you can do to help Moonly? Stay positive, delist, get few more while its cheap.  Otherwise, you will learn something from this when right times come.
Peace