Announcement #14 - Instant search, Basic portfolio page and very important internal tool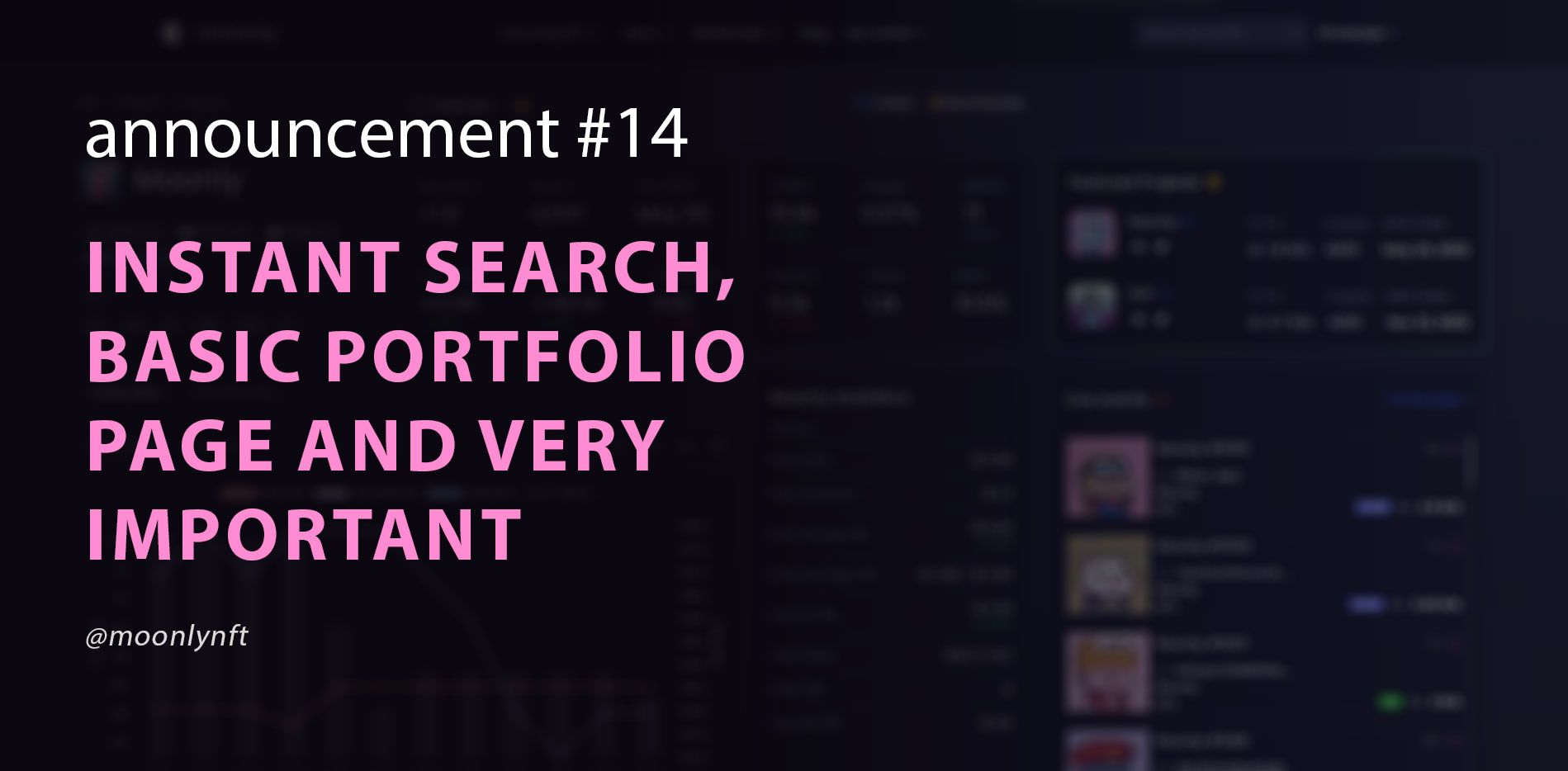 As I mentioned in the video that I just recorded, it's not the best time to deploy new changes and functionality into production, but what the heck, we decided to risk it because I know you are looking for new stuff.
This video https://www.youtube.com/watch?v=S8kzgbPDPRA is ~20 minutes long, but there was no way to put it shorter and keep you up to date on what was happening in the last 2 weeks or so. Get some drink, and play it.
In case you are super busy and don't have time to watch, here is a very short summary of what is new:
- Instant/real-time search that is forgivable and supports typing mistakes. This really gonna improve the user experience on Moonly for the users and VAs (virtual assistants). Please watch the beginning of the video where I explain the benefits of a new search or just go to Moon.ly and try it right now.
- Portfolio page. We built a basic portfolio page that for now displays groups of collections and their NFTs. Similar to what Magic Eden does. Have in mind this is not a finished feature, but just a base for what will come for portfolio tracking. If you are holder, head over https://moon.ly/portfolio.
- Internal tool that matches collections. Even you as a holder can't see the direct benefit of this tool, trust me on the word this is a very important tool for our internal process. Again, it plays an important role for other features and what is yet to come on Moonly. I suggest you jump to the 7:42 timestamp on the video and watch the explanation, instead of writing a long essay here.
As I mentioned in the video, look at those updates as building blocks for the tools and other things we gonna develop in the near future. Like a LEGO pieces that you need in order to assemble and build more complex stuff.
If you missed some of the announcements, last week we released support for other blockchains, and now we are aggregating * ETH, NEAR, Polygon* upcoming projects for now, but soon also gonna monitor them for market stats.
There is a lot of things happening behind the scene on our another Discord channel dedicated to core team and development. So bear with us guys, and trust in my words that we are putting a lot of effort into the research, organization, development, and design of Moonly. And even the things might look slow now, especially in the summertime, we are moving forward and preparing the terrain for what is yet to come, and yeah for the better times.
Hope you enjoyed this update, and already can't wait to finalize the new things we are working on, and release it.