Navigating the choice of wallet to store your Solana holdings in is often a headache, especially if you're new to cryptocurrency. You can lose all you've ever made in a flash if you don't choose your Solana wallet carefully.
But wonder no more! This article offers a guide to the best Solana wallets you can choose. But as a refresher, let's have an overview of what a crypto wallet is before diving into the best Solana wallets.
What Is a Crypto Wallet?
A crypto wallet is a hardware or software that allows you to send, receive, and track various cryptocurrency assets. You must have a wallet to receive SOL, NFTs, or stakes. The wallet stores a collection of keys (keypair) consisting of a private key and its corresponding public key.
Your public key is your wallet's receiving address; you can share that. But never share your private key. Anyone with this information can gain access to your wallet.
Now that you understand why you need a Solana wallet, here are the best Solana wallets for your digital tokens.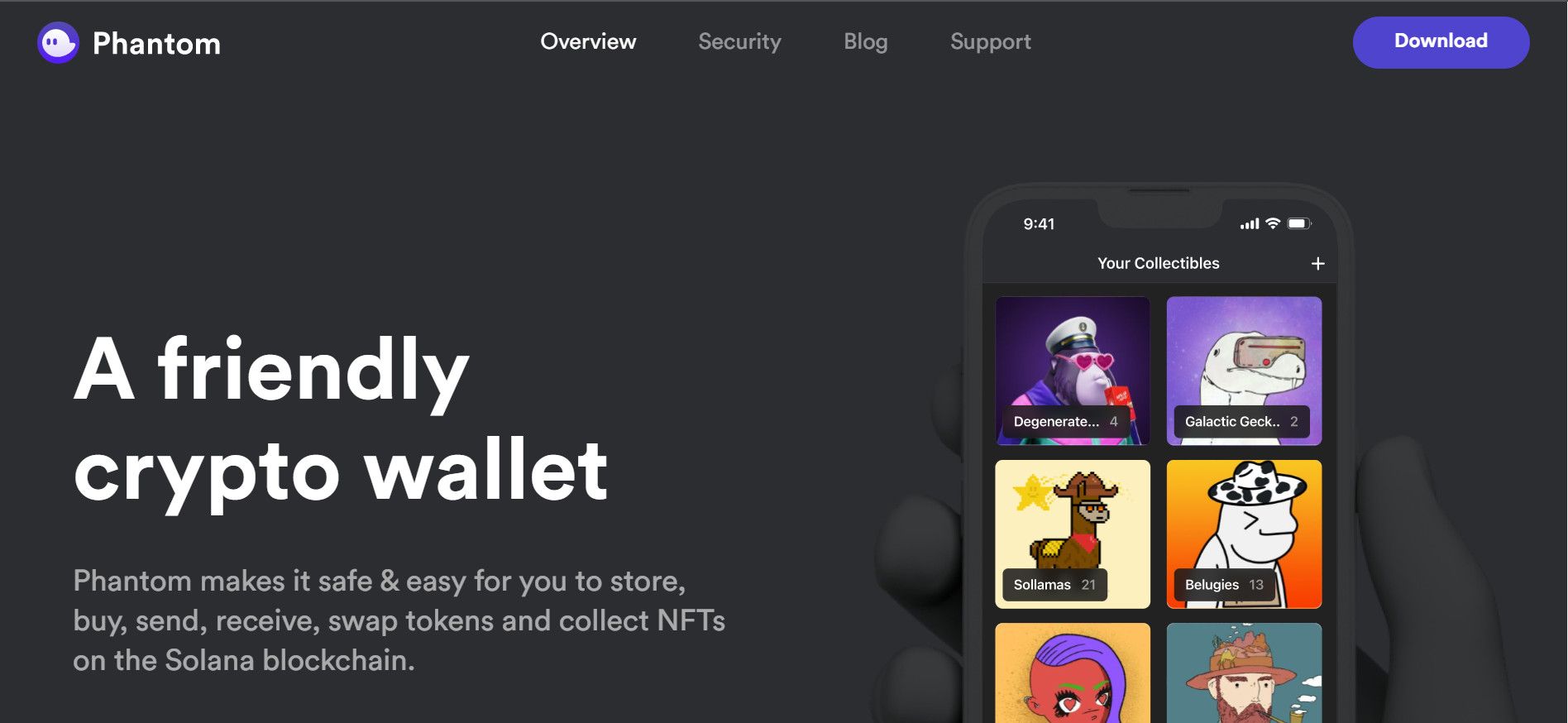 Launched in 2021, Phantom is officially the most popular wallet in the Solana ecosystem. It works on several devices, including iOS, Android, Mac, and PC. It's also compatible with major browsers, including Brave, Chrome, Firefox, and Edge. Phantom's user-friendliness and simplicity make it the first choice for most beginners.
The Phantom wallet supports sending, receiving, storing, staking, and trading Solana-based assets. It offers unique tools for viewing your NFT collections while providing a platform for swapping various digital currencies for SOL. Another fascinating feature is the excellent security it provides when used in conjunction with your Ledger Nano X wallet. And considering that it's self-custodial, users have real-time access to their tokens.
With that said, its 12-word seed phrase offers a lower security level when compared to other wallets that use a 24-word keyphrase. Additionally, it often places more expensive validators above the more rewarding and cheaper ones, leaving you to do more validators' research.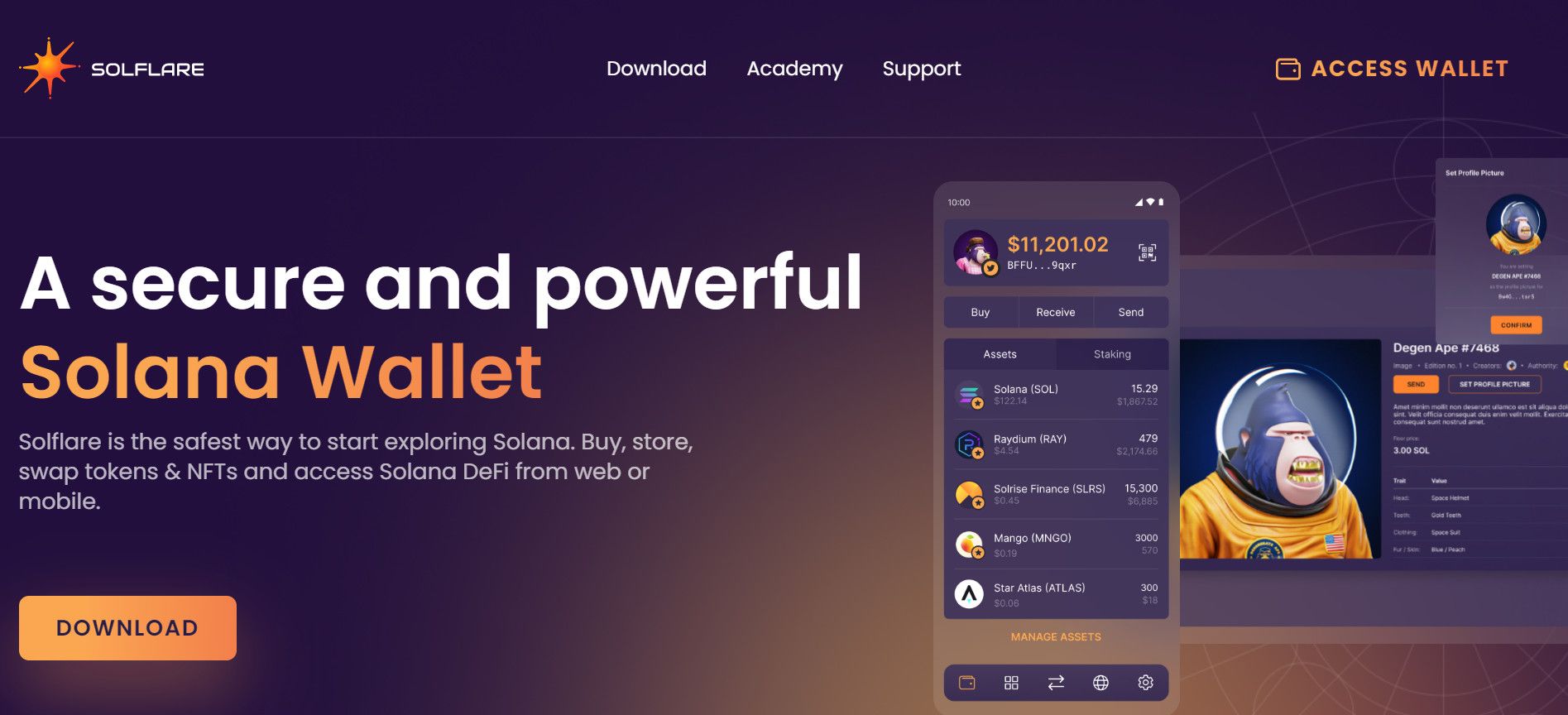 Solflare is one of the first Solana wallets designed by Solana labs. Like Phantom, it offers a sleek user interface and is NFT-friendly, making it an excellent choice for any newbie. It's not as popular as the Phantom wallet, but it beats it with several bespoke features. Many existing users call it an all-in-one crypto investment.
Unlike Phantom, Solflare is compatible with many more platforms. It's also more secure, as it uses a 24-word seed phrase. Another fascinating feature is that Solflare prevents its users from staking all their tokens, preventing the problems associated with accessing staked assets in the future.
Solflare has a mobile app with extensions for many browsers, including Chrome, Edge, and Firefox. You can pair it with your Ledger Nano X wallet to improve security. Interestingly, Solflare lets you view a full list of validators and relevant information needed to make an informed choice of validator, giving you complete access to all your funds at any given time.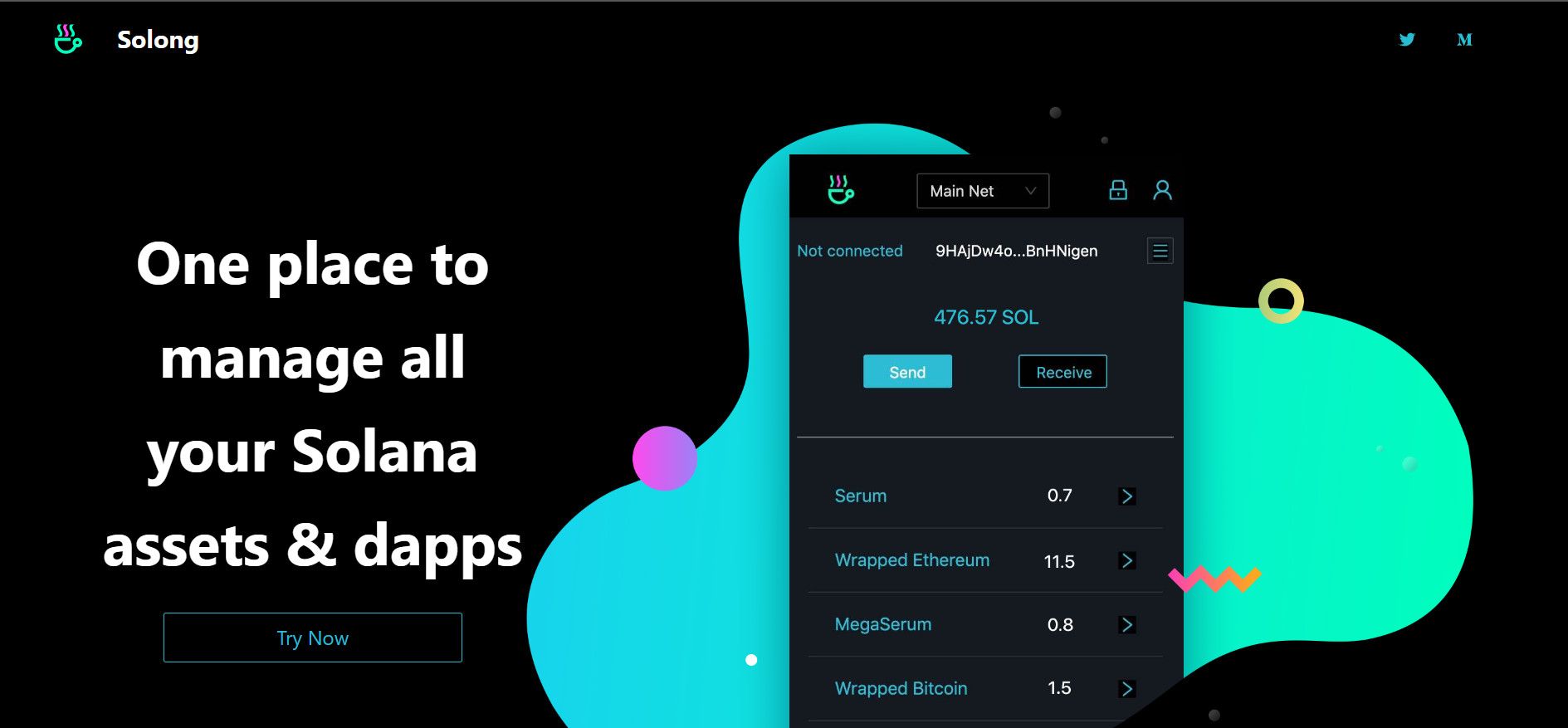 The Solong wallet brews with simplicity in mind. It's an excellent choice for anyone testing the waters of the crypto world. It's only available as a browser extension for Google Chrome and Edge. And it provides an easy way to send and receive Solana tokens while connecting to some Solana dApps.
It is a user-friendly wallet but lacks some advanced functions compared to other Solana wallets. However, beginners can use this app to familiarize themselves with the Solana ecosystem before trying out other seemingly complex wallets.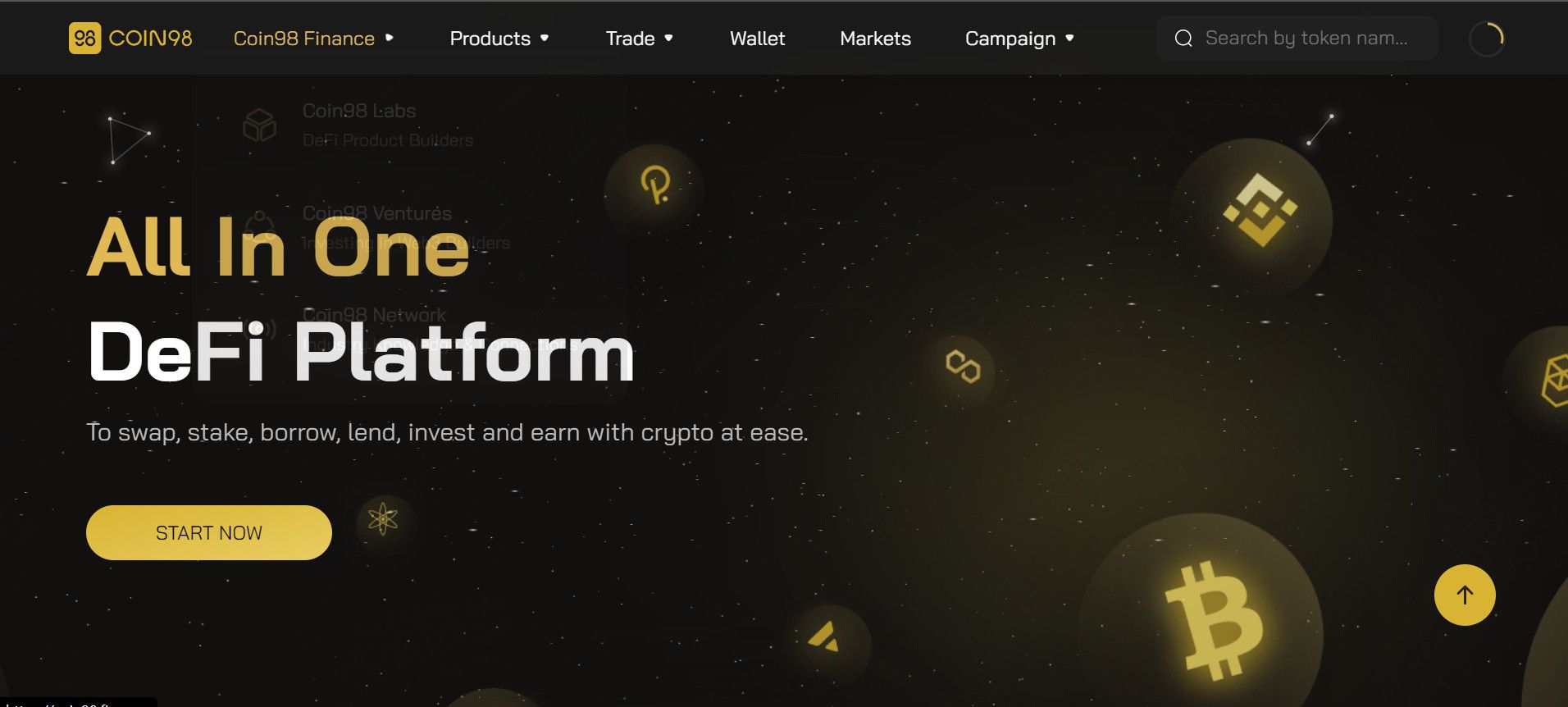 Coin98 offers a Google Chrome extension and supports iOS and Android devices to manage. It's user-friendly and was one of the foremost mobile app wallets to support Solana dApps. It has a browsing tab that gives you access to various dApp categories and allows users to switch between decentralized networks.
With Coin 98, users enjoy the flexibility of managing their portfolios on several platforms, including centralized exchanges, non-custodial wallets, and other personal platforms simultaneously; this is one of the reasons it has been dubbed a gateway to decentralized finance.
Core to its ideal is the security of users' portfolios, creating several security layers to ensure users' wallets' safety.
Looking for a wallet that lets you explore, store, trade, send, and receive other cryptocurrencies alongside SOL? Exodus wallet is the ideal option. It's compatible with several devices and operating systems, including iOS, Mac, Android, Windows, and Linux.
Exodus wallet is well known for its transaction speed and good return on investment (ROI) when you stake Solana, offering a passive income of about 6% per annum. Users can also link the Exodus Desktop version with the Trezor Model T hardware wallet via the Trezor Bridge for better security.
One major drawback of the Exodus wallet is that the choice of validators is limited, offering little use to decentralization.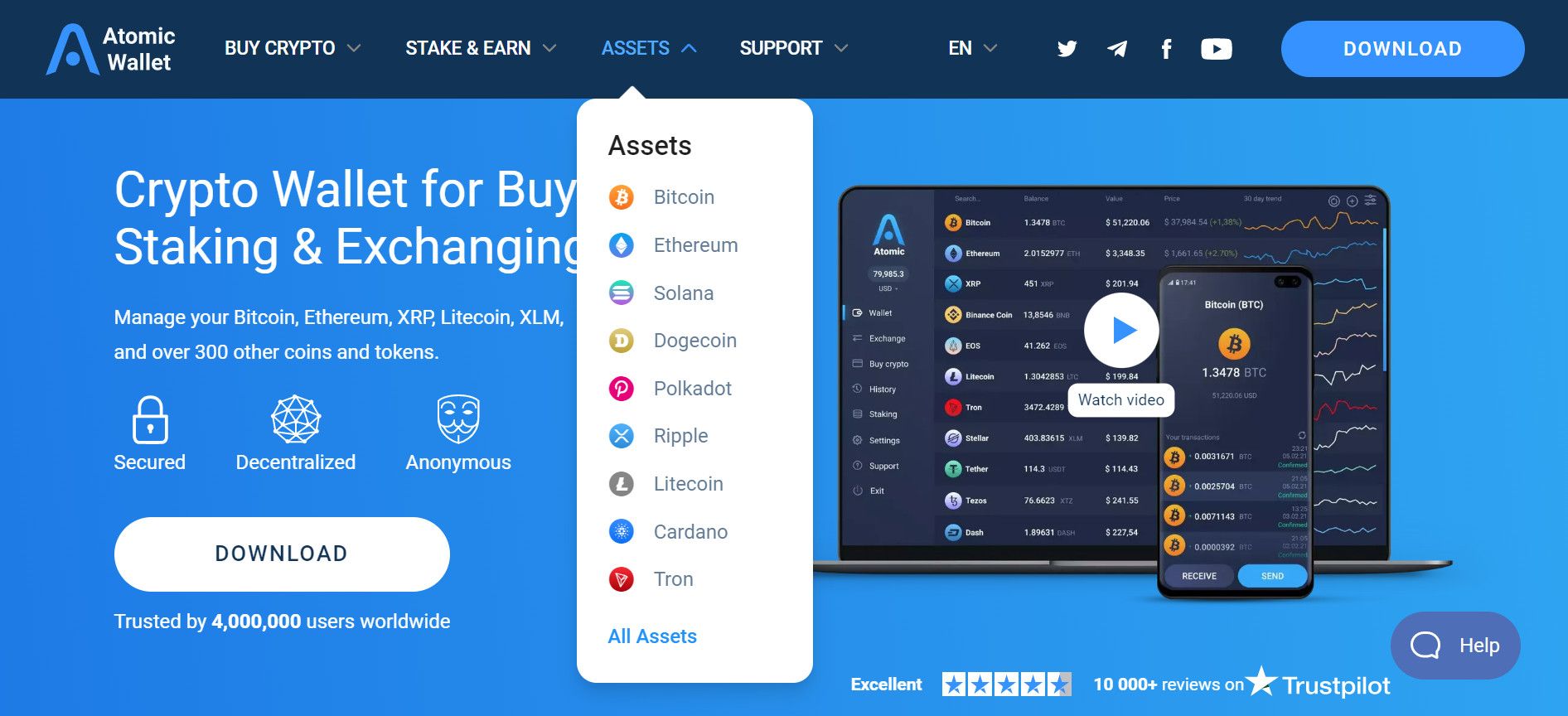 The Atomic wallet is a multi-cryptocurrency wallet with SOL as part of its transaction tokens. Due to its nature, it has access to over 300 tradable cryptocurrencies on its platform. Thus, it allows users to buy, swap and convert crypto-based assets on several blockchains.
One of its competitive advantages is the 7% staking ROI it offers using the Atomic validator node. This ROI is comparatively higher than the usual 5-6%. New users usually find this wallet alluring, as you can fund it via credit card or wire transfer. The atomic wallet has a relatable user interface with a solid user experience. It's also lightweight and prioritizes privacy and security.
However, there are a few downsides to using this wallet. The swapping rates are expensive but manageable. You also can't buy all tokens directly with fiat currency. And there are a few deviations between its Android and Desktop versions.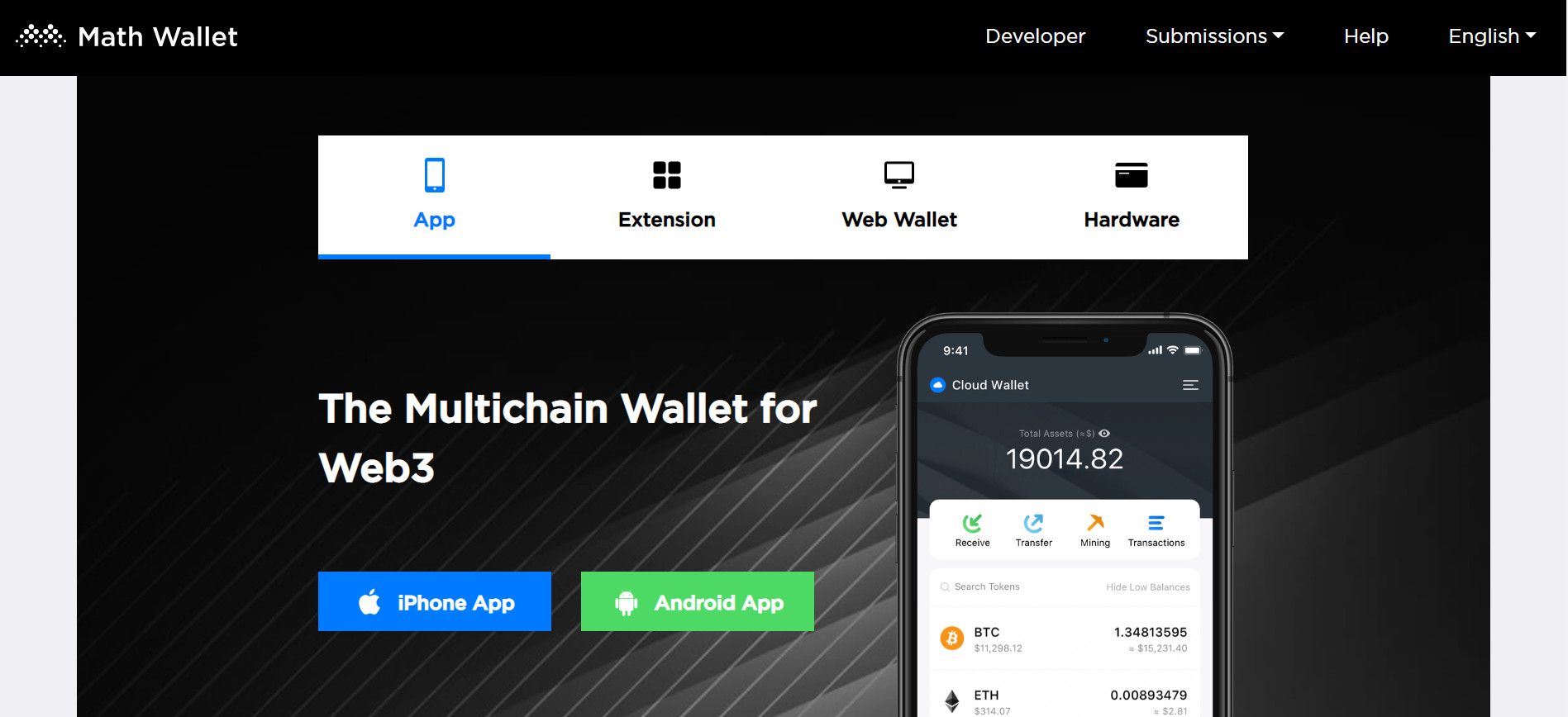 Like most of the earlier discussed wallets, the Math wallet is compatible with iOS, and Android devices, desktops, Extensions, and Hardware. It allows users to transfer, store and stake various crypto assets, including SOL.
Math wallet supports the storage of over 3000 tokens on over 86 blockchains as of the time of writing. It is also compatible with hardware wallets such as Ledger and has a decentralized application browser as an option. Math vault offers a staking platform with a competitive return on investment which can go as high as 30%.
One of the notable shortcomings of the Math wallet is that you cannot buy cryptocurrency via a credit card. And withdrawals are strictly on a manual schedule.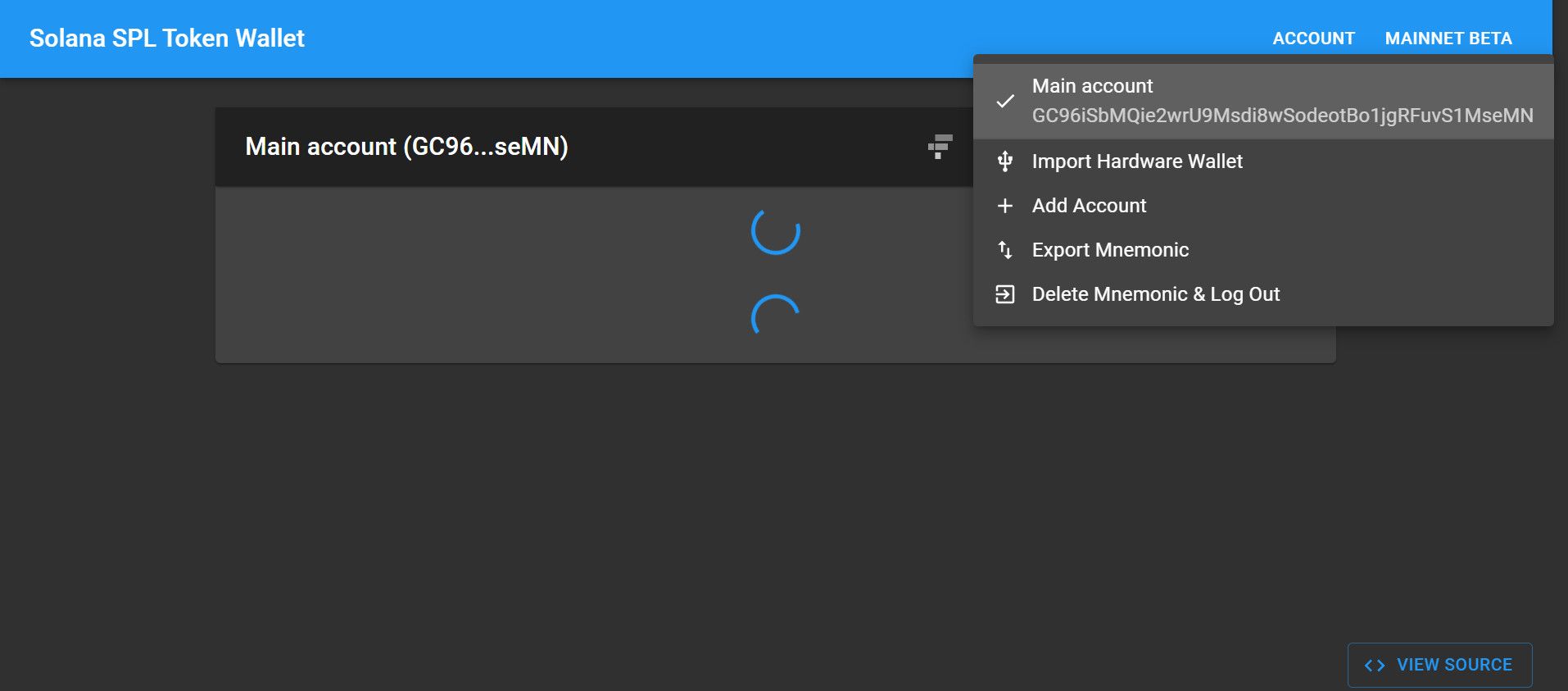 Sollet is a web-based, open-source wallet for managing SOL and all SPL tokens. Although Sollet is easy to use, you can access it from anywhere, making it vulnerable to attacks. However, you can pair it with the Ledger Nano X hardware wallet for more security.
The Sollet wallet also provides browser extensions for Chromium-based browsers, including Edge, Chrome, and Brave. Unfortunately, it doesn't support other conventional browsers like Firefox.
This wallet has several shortcomings, including bugs in the Sollet browser extension. Hence, it is not recommendable to use for direct access to Solana dApps without the ledger hardware connection.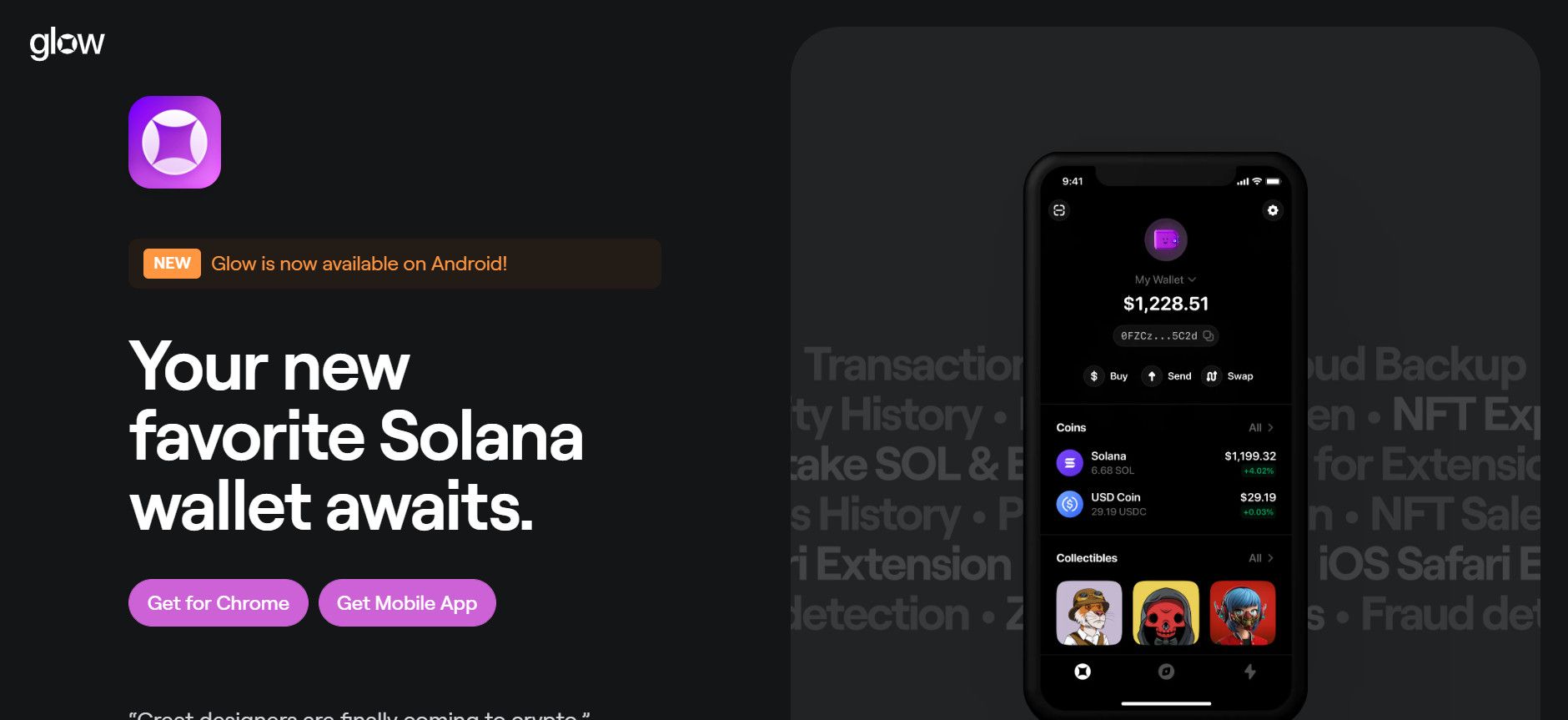 The Glow wallet is a Solana-based wallet that allows users to send, receive store, swap, and stake tokens on the Solana blockchain using mobile phones. It is one of the recently developed Solana-based wallets. Its popularity revolves around its neatly designed features, making it distinct from other Solana crypto wallets.
There are a few more perks to using the Glow wallet. It works seamlessly with both Safari Mobile and Solana Pay. Other competitive advantages include; iCloud backup, different wallet integration, built-in Safari integration, Chrome extension, and notifications.
TheGlow wallet was only available on iOS, but it's now downloadable for Android users. It also doesn't support in-app swaps or staking.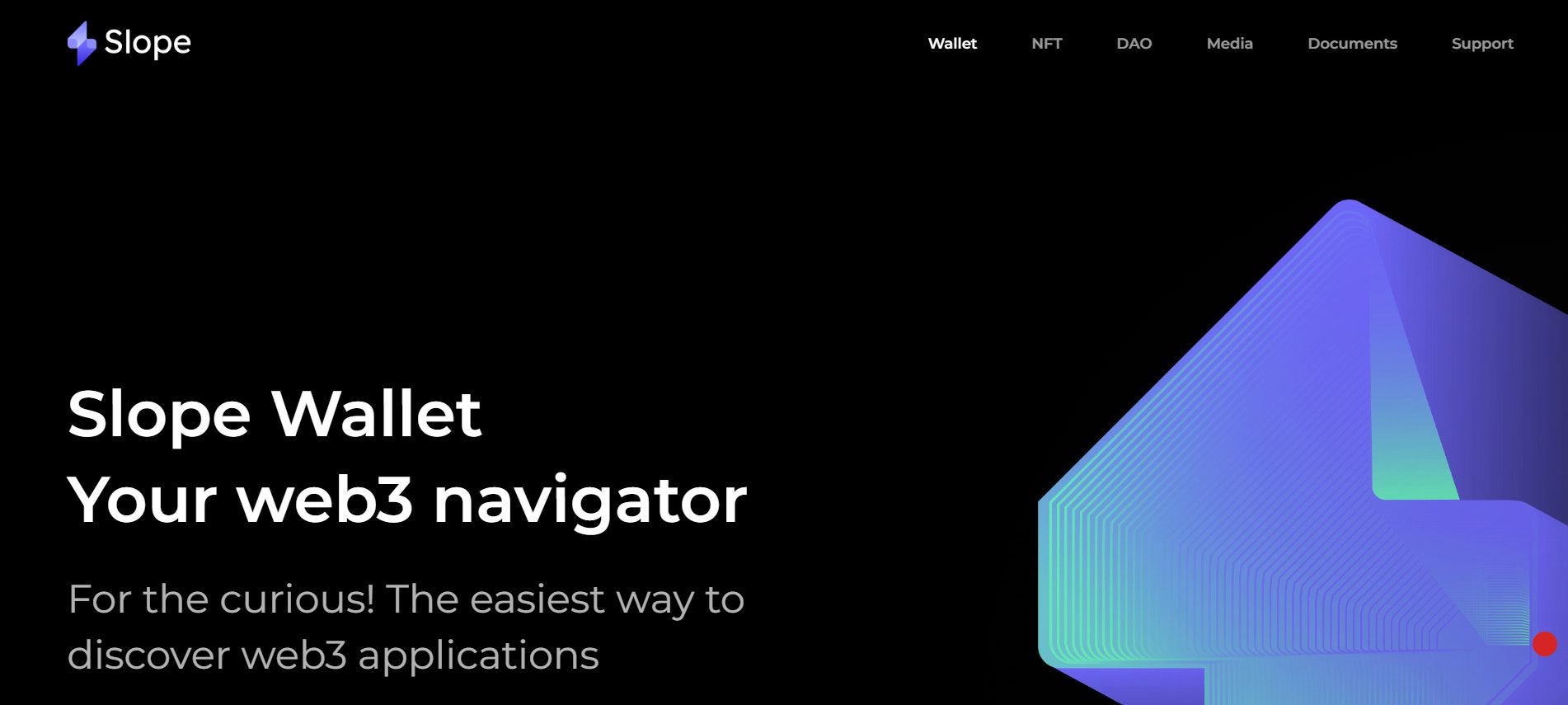 The Slope wallet is a Solana-based wallet. And it's accessible via mobile phone, supporting iOS, Android, and the web. It features a built-in browser that lets you access decentralized applications on the Solana ecosystem.
Other perks include; an easy-to-use interface, cost efficiency, cross-platform experience, and cross-chain capability. Its network speed is also impressive. Thus, it's a viable option for both new and existing crypto enthusiasts and investors.
Rounding Off: Choose Your Wallet Deliberately
Choosing a crypto wallet is your first investment step. And you don't want to miss it from the start. As you've seen, some wallets are more viable, trusted, and secure than others. However, each has its use case. You can start with the more general and popular wallets and explore other options as your need expands.